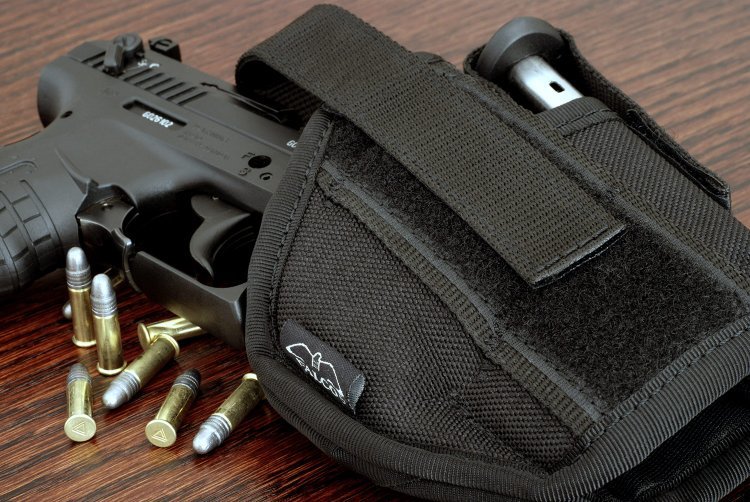 Nylon itself is a plastic with long and heavy molecules that are built up as a metal chain, therefore it's a very resistant yet light material. Nylon holsters are composed of a dual-layered polymer fabric with a textile membrane that allows the whole holster to breathe. Specific nylon materials that holsters are made of are either Ballistic nylon or Cordura nylon.
Nylon holster have their benefits in a lightweight finish and thus are a good concealed carry option. They don't add much weight on the waistband and once carried IWB the retention is higher because of the press of the gun between the body and the belt. Apart from that, nylon holsters can breathe more easily and are not influenced by sweat in high temperatures. Hand made Cordura nylon holsters offer a little bit more quality because the nylon fabric is blended with other fabrics, they have a slightly higher retention. Nylon is best used in concealed carry bags , fanny packs and holster that accommodate lights or lasers.
Nylon IWB Holster
This Nylon IWB holster is made of a 3D breathable nylon, it offers airflow and a comfortable carry. The holster has a lowered carry position and the extended belt loop allows tucking clothing over the holster, then the applied pressure of the body and belt hold it in position with good retention and easy drawing. The holster can be removed without taking the belt off. It also features a slide guard so the gun doesn't come to contact with the skin. Product detail
Belt Side Nylon Holster (Light/Laser)
This nylon holster is specially designed for guns with light or laser attachments. It is designed for belt carrying and has an integrated sleeve housing, which is versatile and fully adjustable in width and height. The holster itself is designed for hundreds of handguns so there is minimal restrictions what model with accessories will fit in. It has also security features in the form of an adjustable thumb break and has two belt loops with press-studs for a stable carry. Have a look at our entire selection of light/laser-bearing holsters here.
Nylon OWB Holster w. Mag Pouch
This cordura nylon holster is made of cordura nylon and belongs to the tactical family. It can withstand harsh environments and is suitable for outdoor enthusiasts.It comes with an extra magazine case. The thumb break safety can be adjusted easily for a variety of handguns and the holster has a possibility to be converted to left-hand carry as easily as reversing the Velcro-attached thumb break. Product detail
Concealed Carry Belt Pouch
This nylon belt pouch is designed for concealed carry. The pouch includes a gun compartment and two additional zipped pockets on the front for any accessories. The gun is safely stored in the pouch through an elastic material serving as a holster. The pouch is available in three sizes and offers a great and inconspicuous form of concealed carry. Product detail
Do you fancy some more light reading? Then carry on with these articles