Home - Magazine Pouches - Nylon Magazine Holders
Nylon Magazine Holders
Find holsters custom made for your gun.
Nylon Magazine Holders
In the market for a durable and sleek nylon magazine holder? Look no further than Craft Holsters as we offer %number% premium nylon magazine holders that are a testament to quality and reliability, tailored for enthusiasts who demand the best. Perfectly suited for semi-automatic pistols, our magazine holders are crafted from the finest materials, ensuring longevity and utmost convenience. Whether you are on the lookout for a belt magazine holder nylon or exploring options for a nylon double magazine holder, we have it all covered. Choose from an unmatched variety, compatible with over 2,400 gun models, making your selection process hassle-free and satisfying. Experience the craftsmanship that defines Craft Holsters, the home of the perfect nylon magazine holder for every gun enthusiast.
Benefits of Choosing our Nylon Magazine Holder
Lifetime Warranty:

Rest assured with your purchase, as every nylon magazine holder comes with a lifetime warranty, guaranteeing quality and endurance for years to come.

Premium Materials:

We do not compromise on quality, which is why we utilizes only the premium materials to create a nylon magazine holder that meets the highest standards of durability and functionality.

Wide Compatibility:

No matter the gun model you possess, we have a fitting solution for you. Our nylon magazine holders are available for more than 2,400 gun models, offering a perfect fit and unparalleled convenience every time.
Experience the difference today and elevate your gear collection with the ultimate magazine holder nylon. Shop now and become a part of the community that values quality and excellence in every detail.
Nylon Magazine Holders FAQ
What is a mag pouch?
A mag pouch, or magazine pouch, is a convenient accessory designed to securely hold and protect the magazines of firearms. It allows for quick and easy access to your magazines, facilitating a smoother reload process, whether you are at the shooting range or in a competition. Investing in a high-quality nylon magazine holder ensures that you can carry extra ammunition with ease and efficiency, enhancing your overall experience.
What are mag pouches made of?
Mag pouches can be made of various materials including nylon, leather, and Kydex, among others. Nylon magazine holders are celebrated for their durability, lightweight properties, and resistance to environmental conditions. Crafted with premium materials, our nylon magazine holders offer a reliable and cost-effective solution for every firearm enthusiast.
What is the best nylon magazine holder?
The best nylon mag holders are always custom made to fit the dimensions of your pistol's mags like a glove. They are also made of premium and durable nylon. Among the best nylon magazine holders on our offer are these: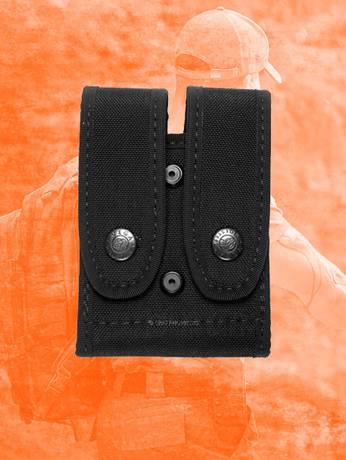 Create your unique custom holster design in our
CUSTOM SHOP
Become a part of the design of your own custom made holster from scratch with the help of our master craftsman.
More information