Home - Magazine Pouches - Kydex Magazine Holders
Kydex Magazine Holders
Find holsters custom made for your gun.
Kydex Magazine Holders
In the fast-paced world of shooting sports and personal defense, you need equipment that stands up to the task, and that's precisely what you get with a Kydex magazine holder from Craft Holsters. Experience the harmony of form and function, where premium materials meet uncompromised quality. We're your trusted partner for providing %number% Kydex magazine holders that offer unmatched reliability and durability. Whether you have a popular gun model or a rare piece, we have got you covered, offering compatibility with over 2,400 gun models.
Benefits of choosing our Kydex Magazine Holsters
Lifetime warranty

- a bullet-proof warranty that assures you of a risk-free investment.

Crafted from premium materials

- the kydex we use ensures longevity and robust performance of your kydex magazine holder


Availability -

choose from magazine kydex holders for a vast array of over 2,400 gun models, a versatile choice for gun enthusiasts.
Enhance Your Firepower with Kydex Double Magazine Holder
Step up your game with the innovative range of Kydex double magazine holders designed for those who demand excellence and performance in every aspect of their gear. When you choose our products, you are not just getting a magazine holder; you are investing in a piece that brings together style, functionality, and durability. Don't settle for anything less; choose a Kydex magazine holder from Craft Holsters and experience the difference that premium quality can make in your shooting experience.
Kydex Magazine Holder FAQ
What is a Kydex magazine holder?
A Kydex magazine holder is a specially designed mag pouch for your semi-automatic pistol magazines. It provides quick and easy access to your magazines, making reloading swift and seamless during your shooting sessions. Craft Holsters offers these holders made from high-quality materials, ensuring a durable and reliable solution for gun enthusiasts.
What is a Kydex magazine holder made of?
A Kydex magazine holder is made from Kydex, a type of thermoplastic acrylic-polyvinyl chloride material. It is known for its durability, rigidity, and chemical resistance, which makes it an excellent material for magazine holders. Its robust characteristics ensure that your holder can withstand the rigors of daily use while offering a sleek and modern appearance.
What is the best kydex magazine holder?
The very best kydex magazine holder is always custom made to fit the dimensions of your pistol's mags like a glove. A quality kydex mag pouch is also made from premium kydex materials. Among the best kydex magazine holders on our offer are these: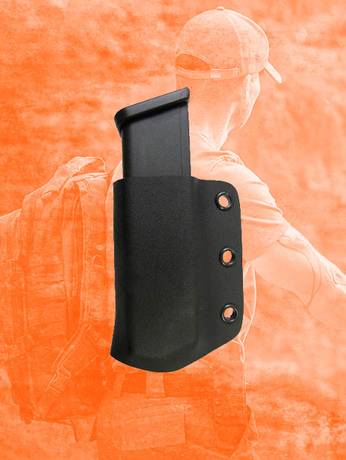 Create your unique custom holster design in our
CUSTOM SHOP
Become a part of the design of your own custom made holster from scratch with the help of our master craftsman.
More information