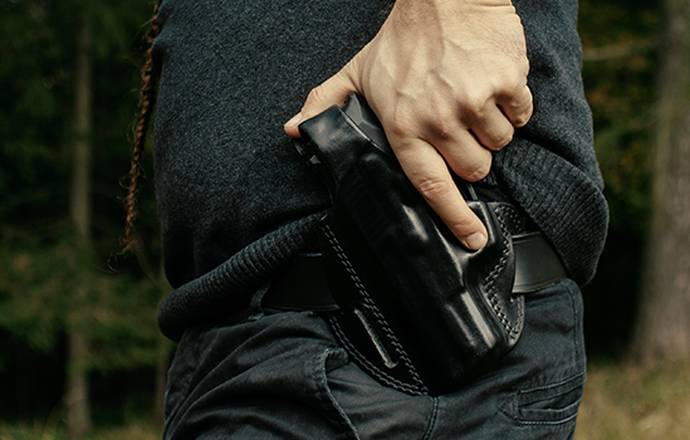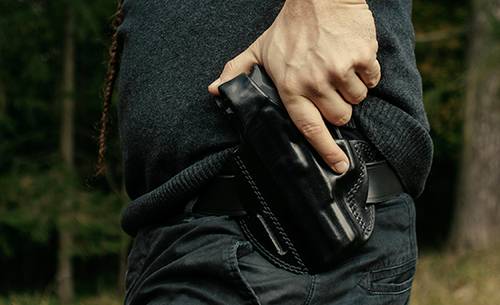 Many people say that left handers pass driving tests easier, that they type faster, they are better at most sports, they are more creative and that they can even make much more money than right-handed people. If you believe this, being born a leftie seems to be a bit of a blessing. However, when it comes to guns and holsters, being left handed can turn to a real curse.
If you're a left-handed shooter, finding the right gun for you (pun intended) must have been quite tough. But finding the right holster (okay, I'll stop), though, might seem even harder. But don't despair, it's not really a mission impossible.
At Craft Holsters we've got exactly what you're looking for - the best left-handed holsters on the market! So,to get rid of that left-handed curse, let's have a look at how to choose a great left handed holster and what the best left-handed holsters are.
Choosing a great left-handed gun holster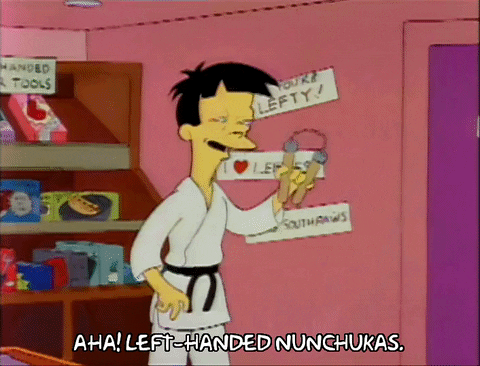 Selecting the best possible holster can be a daunting task, no matter if you're a righty or lefty. To start with, you have to decide which of the many carry styles and materials works for you best. But even if you decide to go for IWB holsters, they all bring something else to the table and/or are suitable for different guns and occasions.
The holsters that are ideal for deep concealed carry don't work well with full-sized firearms. On the other hand, those that are a great fit for 1911s might not meet their purpose if molded for a micro-compact pistol such as the SIG P365 (link). And some guns simply work best carried in a shoulder holster.
That's why I'd like to take you through the best left-handed holsters for a number of different shooting needs. Do you agree? Fine, then let's not waste any more time and let's have a look at what the best lefty holster for each of the following categories is.
#1 - the Best left-handed concealed carry holster
The need for fully concealed carry has never been higher. The CCW laws are getting stricter and stricter and they affect both right and left-handed shooters equally. So, unless you're a law enforcement professional or live in a state with very loose gun laws, I'm sure you're interested to see what the best left handed concealed carry holster is. And I might have one just like that for you.
If you're looking for the best left-handed holster for concealed carry, you've just found it. As it's carried inside the waistband, it already allows high concealment. Moreover, you can tuck your shirt into the holster, covering your gun completely. The holster can be carried in both IWB and AIWB (appendix area) position. It's molded on the exact replica of your handgun, which grants it great fit and retention. The holster also comes with a body shield, preventing your skin from abrasion and your pistol from sweat.

#2 - The Best left-handed holster for 1911
The full-size 1911 is the most iconic pistol ever produced and it's just as popular among the left-handed shooters as it is among the righties. As it's quite big and heavy, the 1911 is not the best choice for concealed carry, though. You also want to have it constantly at the ready and be able to draw it as fast as possible, which is why outside the waistband holsters are one your best options. But there are many OWB holsters to choose from, right? Well, to make it easier for you, let's have a look what the best left-handed holster for 1911 is.
This holster is ideal for both full-sized 1911s as well as all left-handed shooters. Although the 1911 is a heavy pistol, the evenly spaced belt slots distribute its weight on the belt perfectly. The steel-reinforced thumb break increases the pistols safety and can be easily operated by any left-handed shooter. The holster comes in a pancake style, whose lof profile allows for very easy concealment. On top of that, the holster features an extra belt slot, allowing for an additional cross-draw carry position.

#3 - The best left-handed shoulder holster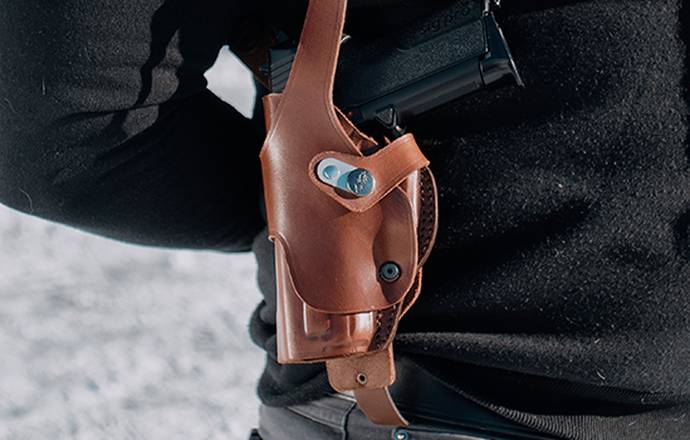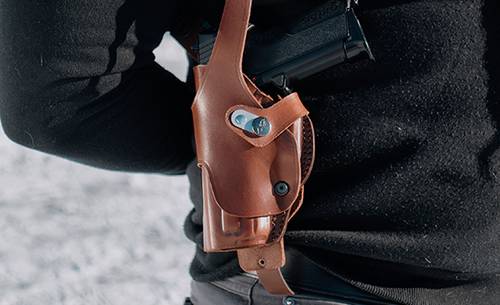 Shoulder holsters for left-handed shooters are very scarce. This is a huge pity as shoulder carry offers many great advantages. These holsters look very stylish, their level of concealment is quite sufficient, and they also offer some utility as they often come with counterweight ammo holders. Moreover, you can choose between horizontal and vertical gun position, which isn't the case with belt holsters ... And I believe I have the best left-handed shoulder holster for you.
This is the best shoulder holster system for anyone, not just lefties. The gun is holstered in vertical position, firmly hugging your body, which allows for easy concealment. When drawing, the unique roto features changes the position of your gun to horizontal, which results in a very quick draw. The system comes with a counterweight double ammo pouch and the rig comes entirely assembled. The shoulder holster is molded on the exact replica of your firearm, resulting in a perfect fit and high retention. This is the shoulder rig left-handed shooters have been waiting for.

#4 - The best left-handed holster for glock 19
The Glock 19 is probably the most popular striker-fired, polymer-framed pistol in the world. And just like the 1911, this semi-auto is equally popular among both right and left-handed shooters. The Glock 19 is a mid-sized pistol, which means its concealment is slightly easier even when carried outside the waistband. But what's the best left handed holster for Glock 19? Well, let's find out.
This is an excellent left-handed holster for Glock 19. As it's designed in the popular pancake style, the holster keep a very low profile, which makes it conceal well. The holster features an open-top design, which results in a quick draw. Another great feature of this holster is its fit. As it's molded on the replica of the Glock 19, it delivers perfect, glove-like fit, but also considerable retention. If you're a left handed shooters and you need a holster that allows quick access to your pistol, this is the one to get.

#5 - the best left-handed holster for sig p365
We've had a look at the most popular full-size and mid-size pistols, let's now give our attention to something much smaller. The SIG P365 is the most popular sub-compact pistol of today and it's the go-to carry gun for the vast majority of righties and lefties. However, no matter what your shooting hand is, the full potential of this amazing concealed carry gun can only be reached when it's paired with a great holster. If you are asking what the best left handed holster for SIG P365 is, here's your answer.
This holster is the best match for the P365. It's carried inside the waistband and in combination with tiny size and almost no weight of the pistol, it allows for super deep concealment. The steel clip allows for quick and easy attachment and the steel-reinforced thumb break results in high retention and security of your pistol. The holster can be carried both on one's strong side or in the appendix area, making it one of the best and most versatile left-handed holsters for SIG Sauer P365.

Conclusion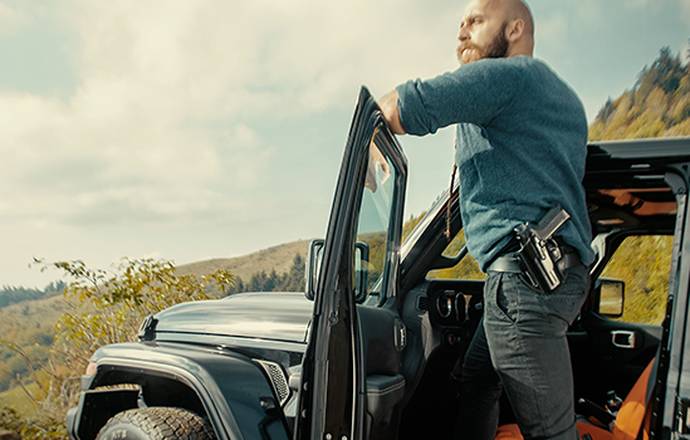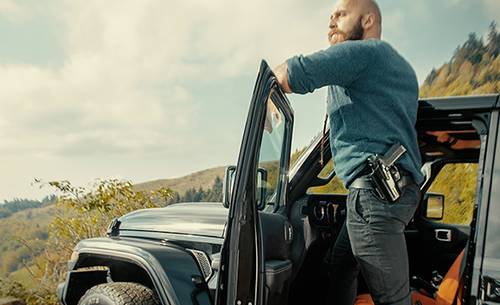 Although being a left-handed shooter might seem to be a curse, the reality is not that bad. There are plenty of guns that left-handed shooters can operate just as well as the right-handers, and with a bit of practice, they might get even better (just like lefties are told to be in many other areas). But selecting the right holster (alright, I promise I won't use the pun ever again!) for a left-handed shooter could really turn into a real chore, if you don't know where to start looking. Luckily, in our store, we've got loads of custom made left-handed holsters waiting for you. Cause we just love lefties.
Do you fancy some more light reading? Then carry on with these articles