Fan Grand Power Favorite Holsters
The Story of Grand Power Holsters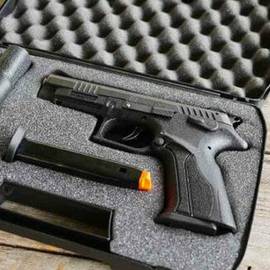 The GRAND POWER is European gun manufacturer located in Slovenská Ľupča, in Slovakia. A former weapon officer Jaroslav Kuracina established the firm in 2003. He got the interest and passions for guns due to an influence of his grandfather, who was a partisan during the WWII. Granddad was also a hunter and used to take his grandchild to a shooting range. He was studying Design of weapons and ammunition at Military Academy in Brno.
The first success was a development of the pistol K100 in 1994. As the manufacturing activities were highly restricted during the Post-Communist era, it took few years before the production start-up in reality. In 1997, the first weapon prototype, marked Q200 was introduced with the serial number E001. In 2007, Grand Power announced collaboration with American gun manufacturer STI International Inc. to produce 100,000 items, especially for the U.S gun market. It was imported in 2008. It was gun variant K100 MK6, selling in the U.S under the commercial name GP 6.
Nowadays, Grand Power is successful Company selling their weapons to more than 70 countries worldwide, used by the sports shooters, civilians and professionals. Thousands of guns have been delivered to the police and army in several African countries, Thailand, Guatemala and to some of the Sheriff's Offices in the U.S.
Select your Grand Power model