Concealed Carry Belt Bag
In your daily life, having the right accessory can define your level of comfort and security. Experience the pinnacle of convenience with the Concealed Carry Belt Bag available at Craft Holsters, specially designed for semi-automatic pistols and revolvers. Designed to meld style and functionality seamlessly, our belt concealed carry bag not only adds an edge to your outfit but also ensures you can carry your firearm with confidence and ease. Step out each day with peace of mind, knowing that you have the most reliable concealed carry tactical bag with belt loop at your side.
Why Choose a Concealed Carry Belt Bag?
Lifetime Warranty:

Invest once and enjoy peace of mind for a lifetime with our robust warranty offering.

Premium Materials:

Crafted from materials that stand the test of time, our Concealed Carry Belt Bag promises quality that you can rely on, providing a sturdy yet elegant home for your firearm.

Wide Compatibility:

Whether you own a semi-automatic pistol or a revolver, find the perfect fit with our Concealed Carry Belt Bag, compatible with over 2,400 gun models.
Step into a world of comfort, convenience, and safety with the Concealed Carry Belt Bag from Craft Holsters. Don't compromise on your safety; choose the best to carry with you, wherever life takes you.
Concealed Carry Belt Bag FAQ
What is a Concealed Carry Belt Bag?
A Concealed Carry Belt Bag is a specialized type of concealed carry bag designed to carry your firearm in a discreet, secure, and accessible manner. It fits comfortably around your waist, making it easy to carry your pistol or revolver without drawing attention.
What are Concealed Carry Belt Bags made of?
Belt Bags for concealed carry are made from premium materials (most often reinforced nylon or cordura), promising durability and a sleek design. The high-quality construction ensures that your firearm is housed in a secure and robust environment, protecting it while providing quick access when needed.
What are the benefits of carrying in a Concealed Carry Belt Bag?
Carrying in a Concealed Carry Belt Bag offers numerous benefits including:
Ease of Access:

Quick and hassle-free access to your firearm in case of emergencies.

Discreet Carry:

Allows for a discreet way to carry your firearm without drawing unnecessary attention. You also don't need to carry proper holster if the bag you choose features an elastic gun holder.

Comfort and Style:

Designed not just for utility but also to complement your style, blending seamlessly with your outfit.

Lifetime Warranty:

Enjoy a lifetime warranty that guarantees the longevity and reliability of your purchase.

Compatibility:

Suitable for a vast range of gun models, catering to individual preferences and needs.
What is the best concealed carry belt bag?
The best ccw belt bag provides ample room for not just the concealed firearm, but also the rest of essential edc items. It also needs to feel balanced on your belt. These bags are also made of premium materials, mainly durable and breathable nylon or cordura. Among the best concealed carry belt bags on our offer are: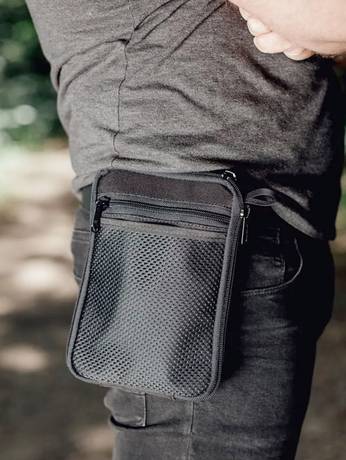 Create your unique custom holster design in our
CUSTOM SHOP
Become a part of the design of your own custom made holster from scratch with the help of our master craftsman.
More information