Fan Charter Arms Favorite Holsters
The Story of Charter Arms Holsters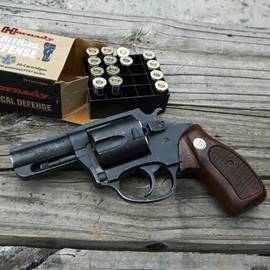 American guns designer Douglas McClenahan established the Charter Arms Company in 1964, in Stratford.The first revolvers were chambered in several calibers .22 Long Rifle, .32 Long, .32 H&R Magnum, .22 Winchester Magnum, .327 Federal Magnum, .44 Special, .357 Magnum, and .38 Special. The most popular revolvers are .38 Special Bulldog Pug and .44 Special Bulldog.
The original company went bankrupt in the 1990s and was later on resurrected by Charter 2000, founded by the Ecker family. The new models contain entirely blocked hammer system to avoid discharges. The most popular revolvers there were announced are The Undercover, The Bulldog, and The Pitbull. The Charter 2000 entered into an agreement with the MKS Supply that would handle marketing, sales, and distribution. In 2008, the Charter Arms introduced new "Patriot" revolver that was available in 2.2" and 4" barrel, chambered in .327 Federal Magnum, but this revolver model is no longer listed under the official products category/list.
The Charter Arms managed to adapt to changing conditions and to achieve a distinctive approach to handgun design. Nowadays, The Charter Arms offers reliable, rugged and affordable revolvers, ideal for a personal protection.
Select your Charter Arms model