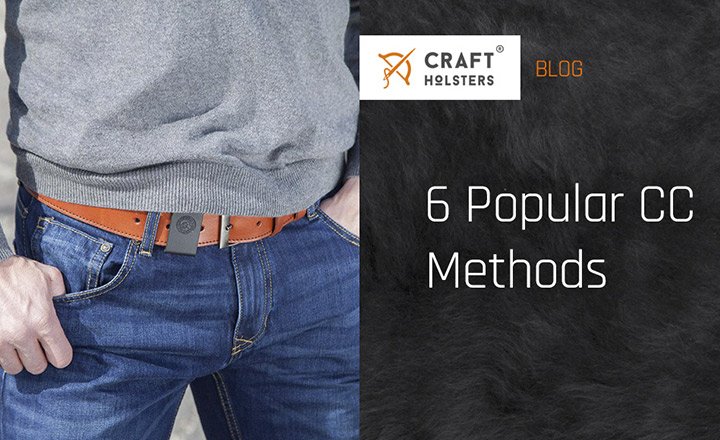 In many states, carrying a concealed firearm is illegal without a appropriate permit; however, if you live in a state where you can legally carry a concealed weapon, it is important to choose the right method that fits you the best. There are many different types, endless options and all of them serve some slightly different purposes. Fortunately, that also means that you have more than a few comfortable choices on how and where to carry your weapon.
Since the term "conceal" is defined as to place out of sight, all the options represent some kind of compromise. You always have to sacrifice some degree of speed, concealment or gun security.  You want the weapon totally hidden, yet you want instant access to it, both of which can be mutually exclusive of each other. The most important question that you should ask yourself is what is the best way to conceal my firearm which allows me the quickest and safest draw and still giving me the comfort feeling?
The most common and basic CC options are as follows:
1. IWB Holster
IWB holster (inside the waist band) – This method for concealed carry is by far the most popular. The belt clips wrap around your belt and gives great retention to the holster and also quickly hide your firearm under your clothes. IWB carry is good for anytime of the year, yet you should watch out for the size of your firearm based on what you are wearing.  
2. Pocket Holster
Pocket carry is another popular method for concealed carry; however, it only accommodates the smaller types of firearms. You should only pocket carry a firearm in a quality holster that has a trigger guard so it never goes off in your pants.
3. Ankle Holster
Another popular CC method for smaller firearms is an ankle carry. Obviously this option works only with long pants, so the clothes and the weather should be taken into account. Also, even though it allows you a quick access to your firearm while sitting, it may seem more complicated to reach it while standing. This is something you should consider.
4. Shoulder Holster
Shoulder carry seems to experience its highest popularity years ago, but it is still a great method for concealed carry. It allows you to wear your firearm on the side, below the armpit, in both horizontal and vertical position. Obviously, you would need to wear a jacket or a suit jacket and this is the reason why is this method thrown out the window by many.
5. Holster Shirt
A modern option that is gaining its attention in concealed carry world is a holster shirt. The T-shirt fits tightly to the body and at the same time allows you to carry a firearm under on either side. To avoid printing, you would need to wear a loose shirt above this one. Also a tucked in t-shirt may not be the best option, since you would have to lift it relatively high when reaching for the firearm.
6. Bellyband Holster
Bellybands make the list for top unconventional carry methods because of their flexibility. You can wear it around your belly or also lower around your hips and it becomes the ultimate concealed tuckable holster. Everything is inside of a tucked-in shirt and there are no telltale clips on the belt. You can also position your gun where you want: strong side, cross draw, appendix position, or whatever floats your boat.  
Regardless the concealed carry method that you choose, you should always practice, practice and practice.
Do you fancy some more light reading? Then carry on with these articles