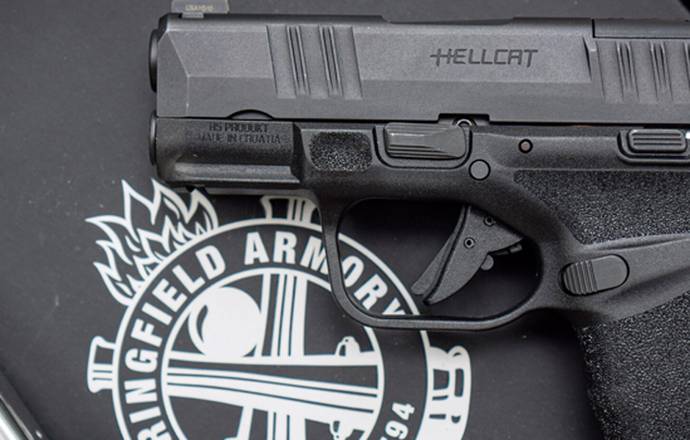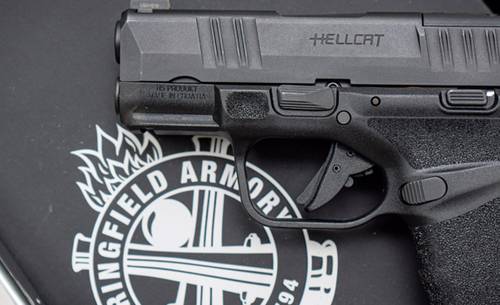 Source: AmmoForSale.com
Even though it was released only 2 years back (in 2019), the Springfield Armory Hellcat already ranks among the most popular concealed carry pistols ever made. This tiny CCW wonder is a result of a long time collaboration between the famous Springfield Armory and HS Produkt, a fairly popular Croatian firearms manufacturer. The Hellcat offers many great features, most of which we covered in our recent Springfield Hellcat review, available here.
But if you're deciding to buy the Hellcat, it's best to read more than just one review. So, without further ado, let's have a look at a couple of "must read'' Springfield Hellcat reviews. And I'm more than sure that you'll quickly understand why the Hellcat deserves a place in your gun inventory.
#1 - Springfield Armory Hellcat Review [2021]: Is It Worth It?




Source: GunUniversity.com
The first Hellcat review everyone who's not sure if the pistol is worth buying should read was put together by Ryan Cleckner and it appeared on Gun University, a very popular website that will teach you virtually everything you need to know about firearms. The founder of Gun University, who is also a former Army Ranger sniper and instructor with the 1st Ranger Battalion of the US Army (so you know his opinion is really expert), believes that the Springfield Armory Hellcat "is a reliable accurate pistol that would be great as a CCW option and we recommend it without hesitation."
In his complex review, the Hellcat was given the final grade "A", which isn't something that's easily achieved. So, if you're not sure whether to buy the pistol or not, go ahead and read Ryan's review. And if you already own this ultimate CCW handgun, this review will show you how to upgrade the pistol, making it even more perfect than it already is.

#2 - Springfield Hellcat 9mm Review – Helluva Carry Gun




Source: Handgunsmag.com
If you want to learn why the Hellcat is a hell of a carry gun, then you have to read the second review on our list, put together by the editorial team at Handgunsmag.com. These guys did their due diligence and ran the pistol through some proper testing. And even though these guys realize very well that micro-compact pistols, such as the Hellcat, can hardly offer the performance of a full-size 1911, they say that the Hellcat simply blew them away when they took it down to the range.
Just like the Gun University review, this one is also fairly complex. Not only does it talk about the standard Hellcat 9mm pistol, it also tells you everything you need to know about the OSP model (Optical Sight Pistol). There was just one problem that the author of the review detected when testing the pistol - "after firing large quantities of ammo, my finger got sore from contacting the trigger blade". But overall, the guys at Handgunsmag.com were more than happy with the Hellcat, and if you want to know why, then I suggest you give their review a proper read through.

#3 - [Review] Springfield Hellcat: Homerun CCW?




Source: PewPewTactical.com
It wouldn't really be a list of the TOP Hellcat reviews if it was missing the opinion of the guys from PewPewTactical.com, would it? These guys rank among the most renowned experts on guns and firearm accessories, and they will tell you everything there is to know about the pistol. And I'm sure they'll also convince you why the pistol is worth buying, if you're still on the fence.
It's true that those who are familiar with the PewPew these guys aren't the biggest fans of the striker-fired pistols as they consider them rather boring (especially the Springfield XD series). However, when the author of this Hellcat review put the pistol down to some T&E, he said the following - "the new Hellcat has gained my attention and pleasantly surprised me. It's going to give SIG a run for their money."
But nothing is perfect, which is also the case of Hellcat's reception by PewPewTactical. One area in which the pistol is lacking when compared to its main competition are the customization possibilities as there aren't that many products you can upgrade the pistol with. Luckily, since last year when this review was published, the Hellcat's aftermarket was expanded considerably, which means we're set for PewPew's update of their concise review.

#4 - First-Shots Review: The Springfield Hellcat 3″ Micro Compact




Source: EagleGunRangeTX.com
The next Hellcat review on our list was written by Shooty McBeardface, a professional firearms instructor at Eagle Gun Range. Why am I mentioning this? Well, I want you to be sure that this review is backed up by someone with enough experience to properly judge the performance and qualities of Springfield Armory's latest flagship.
And just like the title suggests, the author put the review together shortly after firing his first couple of shots with the Hellcat. And Shooty's first impressions were as follows - "It's a subcompact, so it's a bit snappy. Given the magnified felt recoil and the short grip, you've really got to—how should one put it?—grip the hell outta the gun to maintain a proper grip and control". Shooty also says that he's "not a huge fan of the sights or the trigger", but he also adds that the fact that these Hellcat parts can be easily replaced by some Hellcat aftermarket upgrades.
And even though the author has suggested a couple of pistol's weaknesses, he still thinks that if the Hellcat proves to be "reliable in the long run, it would seem to be—as of this writing—the ultimate expression of a high-capacity subcompact for deep concealment." And as the review was written a year ago, I'm sure he's learned that the Hellcat really is one of the most reliable subcompacts currently available on the market.

 #5 - Head-to-Head Comparison: SIG P365 vs. Springfield Hellcat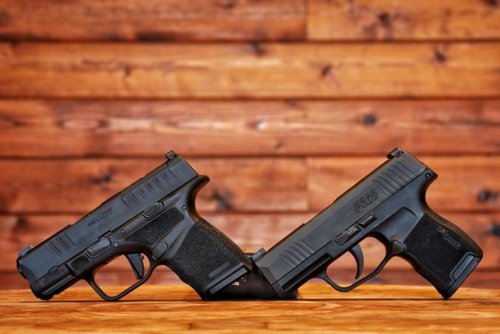 Source: thetruthaboutguns.com
Saving the best for last, right? When deciding for a new carry gun, it's vital not only to read reviews of the pistol you're contemplating buying, but you should also make yourself familiar with how well it does when compared to its competition. And no one can argue who the fiercest competitor of the Hellcat is - the SIG P365. And Jeremy S. from TheTruthAboutGuns.com realizes this as well, which is why he decided to cover both micro compacts in his head-to-head comparison.
Jeremy and his colleague Dan decided to put both guns to some proper range testing and one thing they agreed on is "that the P365 shoots slightly softer than the Hellcat." However, other than that, they could see no real difference between the two and they also agree that both CCW wonders "feel in the hand and shoot on the range like fraternal twin brothers."
Of course, in his head-to-head comparison, Jeremy also covers many other features of both pistols, and if you want to learn more about them, you should definitely read his review. And if you're still undecided which of the two to make a part of your concealed carry EDC, then you also read our own Hellcat vs P365 review, which can be found here.

CONCLUSION - IS SPRINGFIELD HELLCAT WORTH BUYING?
Based on the reviews above, there's only one answer to whether the Springfield Hellcat is worth buying - it definitely is!
The Hellcat is one of the most reliable CCW handguns currently in production and it offers everything a proper concealed carry gun should - it's small, easy to conceal, has great capacity, and it just feels great in the hand. The only real competition that the pistol currently has is the SIG P365, so it's probably a good idea to try out both of these guns on the range before you decide for your new carry gun.
But one thing is certain. With the Hellcat, you can never go wrong. Just don't forget to get a custom made Springfield Hellcat holster … that is, if you want to enjoy the best possible concealed carry experience.
Do you fancy some more light reading? Then carry on with these articles