Fan Stoeger Favorite Holsters
The Story of Stoeger Holsters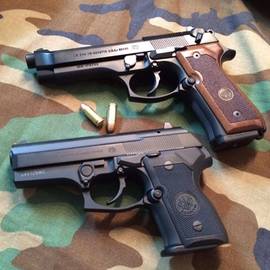 The Stoeger company was founded in 1924 and currently is located in Accokeek, Maryland. Most of these firearms were high quality and came from known makers in Europe. Many firearms were marketed under the Stoeger brand.
n the 1990s the Finnish rifle manufacturer Sako purchased the Stoeger company, and then in 2000, the Sako was acquired by the Beretta Holding S.p.A. At that time, the Stoeger Industries was placed under the ownership of the Benelli USA, which is a subsidiary of the Beretta, where it remains today as a member of the huge Benelli USA family of companies. The Stoeger is focused mainly in producing of firearms such as the pistols, which design is based on the design of Beretta pistols. The Stoeger was located in New Jersey prior to its acquisition by Beretta and prior to this was the largest gun store in the whole New York City. The Stoeger commissioned many various small companies in Germany to manufacture a .22 Long Rifle replica of the Luger, that it imported.
Later in 1994 an American-made version of the Luger was sold. The pistol was all made of stainless steel, was chambered in 9mm ammunition and sold as the American Eagle Luger with either 4 inches or 6 inches barrels. The Stoeger has owned the name "Luger" starting around 1924. This firearm manufacturer also distributed in the United States some firearms made by the Belgian company FN.
Select your Stoeger model