Fan STI Favorite Holsters
The Story of STI Holsters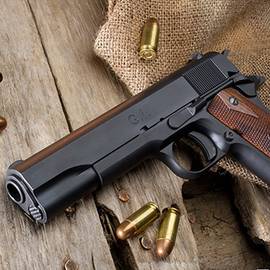 STI International, Inc is a well known Texas- based company. The company was founded in 1990 by Virgil Smith, gunsmith and mechanic, who started to build 1911 for competition use. In 1993 a hi-capacity 1911 frame for IPSC shooters had been revolutionized by Virgil Tripp along with a computer aided design (CAD) specialist named Sandy Strayer. After introducing the frame to the market and receiving a patent for it, Strayer and Tripp changed the company's name to STI (Strayer-Tripp Inc.) and changed the focus of the company on building custom pistols solely.
Today's pistols are based on a modular frame made of steel or aluminium depending on the caliber variety. A new technology of a linkless barrel with a 1911 style permits the STI International LS pistol to be slimmest, full high-powered 1911 model on the market today. It's only .765" across the slide and 1.065" across the slim rosewood grip panels. The pistol is designed for concealed carry and self-defense. The LS mount, undercut trigger guard and front strap transfers most of the felt recoil to the heel of the palm. It also reduces muzzle rise through the distinctive style of the STI Camblock linkless barrel system. The LS uses typical 1911 controls with the extra advantage that the slide will be cycled for loading or unloading with the thumb safety engaged. The LS side arm has an abbreviated grip, 3.4" barrel and a weight of 28 oz. The sights area consists of a integral front sight with a Heinie Low Mount rear sight for a snag-resistant style.
The LS comes usually with its own proprietary trigger assembly and Recoil Master guide red system. Calibers are usually 9mm and 40SW.
Select your STI model