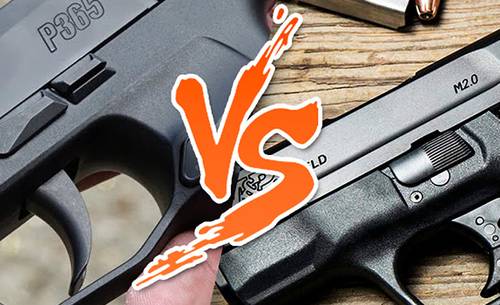 Shortly after its introduction in 2018, the SIG Sauer P365 became the favorite among the sub-compact handguns. And it constantly keeps finding itself on top of any list of carry guns of this size. However, there's another carry pistol that's trying to take the spotlight away from the SIG - the Smith & Wesson M&P Shield.
In this brief article, we'll look at the main differences and similarities between the two semi-autos. Let's see if it helps you decide which one becomes your own favorite for everyday concealed carry.
SIG Sauer P365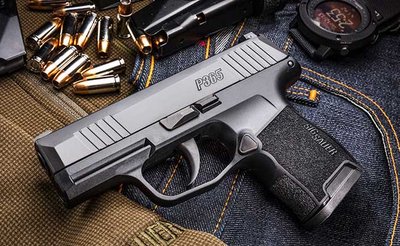 source: Guns and Ammo
The SIG P365, developed by SIG Sauer Inc., is a micro-compact semi-auto pistol, considered by many the greatest modern concealed carry handgun. And there's a couple of reasons for this. Not only is the gun very compact (just like its classification suggests), it also offers high capacity, impeccable accuracy and considerable firepower. If matched with a well-fitting SIG Sauer P365 holster, this pistol also becomes an ultimate choice for everyday concealed carry.
Smith & Wesson M&P Shield M2.0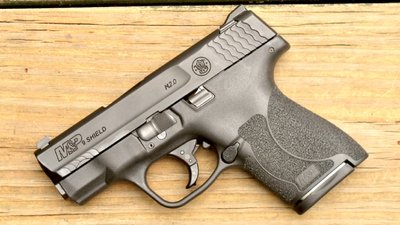 source: The National Interest
The Smith & Wesson M&P Shield M2.0, for the sake of brevity referred to as Shield 2.0, was introduced by Smith & Wesson (S&W) Brands, Inc. back in 2017. Shortly after its launch, the pistol has quickly become one of the most popular choices for everyday concealed carry. The Shield 2.0 comes in 3 different barrel lengths - 3.1'', 3.3'', and 4''. For the sake of our comparison, let's stick to the one with 3.1'' long barrel. Just like the SIG, the Shield 2.0 is also a very compact, lightweight and easy to conceal, which is everything a solid carry gun requires. And just like its name suggests, the pistol's design is based on the S&W M&P Shield model, only this one comes with a refined trigger, the gun is a bit lighter, and it is also available in the .40 S&W caliber.
SIG P365 vs S&W M&P Shield M2.0 - important specs and features
Now that we've been through the basic introduction of these pistols, it's clear why either of them makes it onto each and every available list of the best everyday carry handguns. However, if you have trouble deciding which of these you should make a part of your EDC, let's break down the similarities and differences of these two pistols.
Size comparison  - The bigger, the better?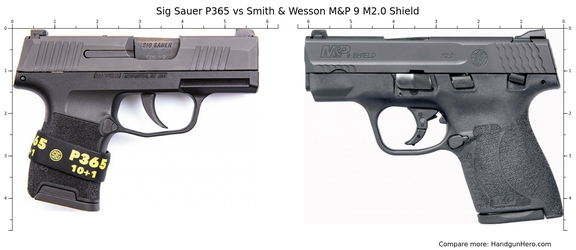 source: Handgun Hero
The SIG P365 is one of the most compact pistols ever produced. The pistol is 5.8'' long and mere 1'' wide, featuring a 3.1'' long barrel. While this comes at the cost of firepower when compared to the full-sized handguns, it definitely results in super easy concealment. After all, isn't that what everyone is looking for these days?
The Shield 2.0 is quite similar in its dimensions to the SIG. Although the overall length of the pistol is 6.1'', the pistol's barrel is also 3.1'' long. The gun is a bit thinner than its competitor as it's only 0.95'' thick. This means the pistol is even more ideal for both outside and inside the waistband carry, but the difference is not that big.
The size difference of these two pistols is quite inSIGnificant. While the SIG weighs mere 17.8oz, the Shield 2.0 isn't much heavier, weighing only a bit more at 18.3oz (when both guns are unloaded).
This means that the first battle ends in … TIE.
The magazine and capacity
The SIG Sauer P365 was designed with one particular thing in mind - high capacity. And that's exactly what SIG Sauer Inc. delivered. The SIG undoubtedly offers the highest capacity among sub-compact handguns (with the exception of the Springfield Hellcat). The SIG's flush magazine comes with 10 rounds of ammo, which is 3 more than the Shield. Moreover, upon the pistol's release, SIG introduced an extended 12 rounds magazine with a pinky extension. But SIG didn't stop there as later on they amazed the world with another extension, this time a breath-taking 15 rounds magazine. And if you're wondering how the heck it's possible to stuff 10 rounds into such a small handgun, the answer is simple - a double stack magazine!
In comparison with the SIG, the Shield 2.0 only comes with a 7 rounds single-stack magazine. It's true that Smith & Wesson introduced quite a great number of mag capacity extensions (most notable being the 8 rounds mag), however, if we're comparing the default capacity of these two pistols, the winner of this battle is clear.
Thus, the tie is broken and the first point goes to … the SIG
Accuracy and range performance
Thanks to the SIG Sauer XRay3 Night Sights, the P365 is a highly accurate pistol. The front sight boasts high day and night visibility. It's pretty much a high visibility green ring around a tritium vial. The rear sight consists of two tritium vials and it is serrated in order to reduce glare, which is an ideal solution for brighter environments. And although there were some issues with the sights shortly after the pistol's initial release, SIG Sauer were quick to fix these problems and the P365 can now compete even with full-sized handguns when it comes to accuracy and target acquisition.
The Shield 2.0 also comes with Tritium night sights, developed by Smith & Wesson. In front, there's a white dot and in the rear the pistol features a double white dot sight. However, the Shield 2.0 can be enhanced by a vast number of aftermarket products, which means you can take your aiming game one step further, at least when compared to the SIG.
When you take these two guns to the range, you'll find their performance very similar. However, there are quite many shooters who complain about the SIG's trigger. On the other hand, just like I said before, the Shield 2.0 comes with a much crisper trigger when compared to its predecessor, which many gun nuts appreciate to great extent. When it comes to the sight radius, sight picture, and feel on the hand, I'd say both pistols are tied.
Still, a slight advantage in this battle is held by … the SHIELD
Caliber and firing mechanism
Just like suggested before, the Shield 2.0 comes in multiple calibers. But for the sake of argument, let's only focus on the 9mm cartridge, which is utilized by both pistols. The 9mm definitely is the most popular (and affordable) caliber when it comes to everyday carry guns. It might not boast such firepower as the .45 ACP, .40 S&W, or the 10mm, but it definitely does the trick. For personal-defense and a bit of plinking fun, this caliber is more than ideal.
The Shield 2.0 and P365 are also identical in the firing mechanism, as both pistols are striker-fired. Now what does that mean? Simply put, a striker-fired pistol engages a round via a striker hitting the firing pin. The firing mechanism is built into the pistol and fully covered by the pistol's slide. Such mechanism results in slightly lower firepower, especially when compared to hammer-fired pistols. However, it also means that both the SIG and Glock are composed of fewer parts, which SIGnificantly reduces the threat of any hardware malfunctions.
Based on the caliber and firepower, I'd say this battle ends in a … TIE
Let's talk concealed
If you're deciding between the SIG P365 and S&W M&P Shield M2.0, you probably need an everyday carry gun. And as both the Shield 2.0 and SIG are very compact and lightweight, you can easily conceal them utilizing any carry style without anyone noticing. However, no matter which carry style you pick, I've already stressed how crucial it is to pair up either of these pistols with a well-fitting holster.
At Craft Holsters, you can pick from many SIG Sauer P365 holsters, and just as many Smith & Wesson M&P Shield M2.0 holsters. If you decide to go with the SIG, then our list of the best SIG Sauer P365 holsters for 2021 will definitely help you decide which holster to go for. And if by any chance you prefer the older version of the Shield 2.0, here's a link to our list of the S&W M&P Shield holsters.
Conclusion - Who wins this battle?
Our battle between the SIG P365 and Shield 2.0 ended in a tie. Why? Because it's just not possible to say who takes the grand prize for the best carry gun before you lay your hands on either of these amazing sub-compact pistols. After all, it's all a matter of preference.
It's safe to say that when it comes to capacity, the P365 is our favorite. However, if you care about accuracy more and the possibilities for aftermarket upgrades, then the winner will most probably be the Shield 2.0. However, it's best if you get hold of both of these pistols and put in at least a couple of rounds at the range, so that you can see for yourself which one fits you best.
If you decide for the SIG, you'll definitely make a great decision. Just don't forget to pair it up with one of the well-fitting SIG Sauer P365 holsters. Is your favorite the Shield 2.0? Also a great choice! However, make sure you get a custom made S&W M&P Shield M2.0 holster for it. And if you simply can't decide yet, read our SIG Sauer P365 review as well as the S&W M&P Shield M2.0 review, which might give you an even better idea of what either of these excellent carry guns can deliver.
Do you fancy some more light reading? Then carry on with these articles