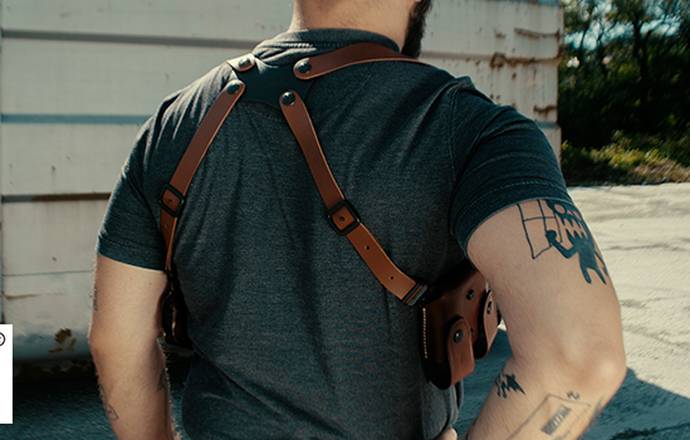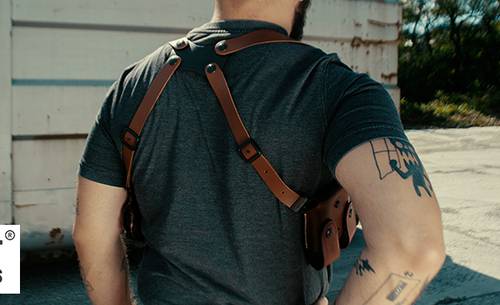 Whenever I hear the words "shoulder holster", I get immediately thrown back in time. First to the 80's, when Miami Vice and many other cop shows were the highlight of the week. Then to the sleepless nights spent reading through the classiest Old West sagas. And as a history nut, of course, I can't forget to mention all those war times documentaries in which shoulder holsters took the spotlight.
Shoulder holsters were indeed the most popular carry of the old times. However, with the CCW laws getting stricter and stricter, their popularity started to fade away. And in the most recent years, almost all gun lovers switched to the styles that offer easier and higher concealment. Thus, the IWB (inside the waistband) and AIWB (appendix inside the waistband) holsters took over the world of concealed carry.
The question remains - are shoulder holsters still a viable option for everyday concealed carry? Believe me or not, there is only one answer to this question. They definitely are!
However, to make the most out of your shoulder carry experience, you need to know the answers to a couple more questions, the most important of which are the following - Why and when should I carry a shoulder holster? How should I properly mount my new rig? How should I go about concealing it? What is the best shoulder holster for my carry needs? So, without further ado, let's find the answers to these questions.
Pros & Cons of shoulder holsters (or why should I get a shoulder holster?)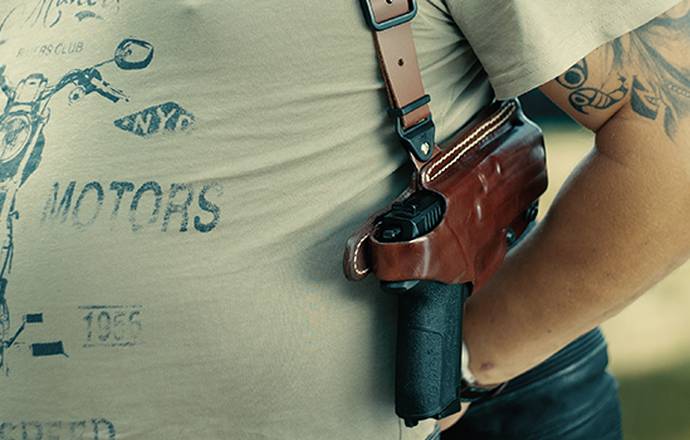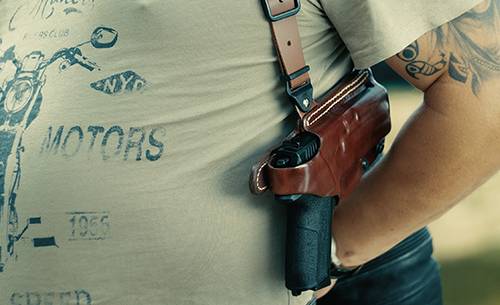 Shoulder holsters are the ideal carry option for a high variety of handguns and for a number of occasions. No matter what type of gun you carry (well, probably with the exception of the tiniest pistols and revolvers), a well-fitting shoulder rig will let you conceal carry it on a daily basis and without anyone noticing.
For me, the most significant benefits of well-crafted shoulder holsters are the following:
Weight of the gun evenly spread over a larger area of the body
Ideal concealed carry for pistols and revolvers of medium to full size
Easy access to your gun at all times
High carry comfort and great stability
High safety and retention
Vertical or horizontal carry position
Usually come with counterbalance pouch for extra ammo
Ideal choice when driving for long periods
Ideal solution when sitting for long periods (e.g. office jobs)
Super easy concealment in colder months
They look incredibly classy
On the other hand, if you're new to shoulder rigs and/or are a fan of belt holsters, you might face a couple of difficulties when you first take up this carry style.
The most notable shortcomings of shoulder holsters are these:
Not the safest carry option (applies mainly to horizontal rigs)
Awkward in social situations
(Dis)mounting takes some effort and brains
They can hardly be called quick draw holsters
Drawing and reholstering takes a lot of practice
Hard to conceal in warmer seasons
Not the best option for the smallest firearms
Assembling a shoulder rig can be a real nightmare
How to mount and adjust your shoulder holster [VIDEO GUIDE]
Without proper mounting and adjustment, you will hardly be able to enjoy any of the benefits even the best shoulder holsters offer. And just like I mentioned above, it might take some time, effort, and hard thinking until you find out how to go about the attachment of your first shoulder rig.
As we want you to start enjoying your shoulder holster straight out of the box, we put together a brief video guide to shoulder holster. If you want to learn how to select the correct hand, how to easily mount it, and how to select the correct harness size and adjust it to ensure a perfect and comfortable fit, go ahead and give our Guide to shoulder holsters a look. And if you're not a fan of movies, you can find a quick summary of our guide right below the video.
How to choose the correct hand
If you draw with your right hand, choose a right-handed holster. If you're a leftie, then pick a left-handed holster. Simple, isn't it? Just keep in mind that the holster will always sit under your non-draw hand and you will draw with your dominant hand across the body. This means that right handers will use their right hand to draw their gun from under the left arm. All the left handers will do the exact opposite.
How to put on your shoulder rig
Mounting a shoulder rig is actually much simpler than it looks and once you've learned how to do it properly, it will become the same routine as putting on your favorite shirt. Here are a couple of simple steps on how to put on your shoulder rig.
Let's say you bought a right handed shoulder holster system that comes with a counterbalance magazine or speedloader pouch. To properly mount it, take the following steps (if you're a leftie, just do the opposite):
STEP 1 - Place the main holster body under your non-draw arm
STEP 2 - Run your non-draw arm through the arm opening on your harness
STEP 3 - Make sure the top part of the holster (where the gun enters) is facing the correct direction, that is outwards so that you can draw from the holster easily
STEP 4 - Now that the holster part is sitting under your non-draw arm, put on the counterbalance part of the harness in the same way, just as you'd put on a shirt (run your draw arm through the second arm opening)
STEP 5 - The counterbalance magazine/speedloader pouch should be sitting firmly under your draw arm
STEP 6 - Make sure that the harness straps aren't twisted or inside out
There are also shoulder rigs that don't come with a counterbalance. If this is your case and your rig only comes with an elastic strap, mounting gets even easier. Just take the steps 1 to 3 and then put on the elastic strap the same way you'd put on your shirt.
How to select and adjust the harness for perfect fit
Most often a shoulder harness is adjustable up to the XL size (47'' chest circumference, 23'' top shoulder to waist length). However, shoulder holsters should be available for everyone, even the big guys. Here at Craft Holsters, you can get a shoulder rig no matter what size you are. However, we need two important pieces of information - your chest circumference and shoulder to waist size.
How to measure these? For the chest circumference, simply run the tape measure around the thickest part of your chest. For shoulder to waist size, simply measure the distance between the top of your shoulder and your waistline (to where your belt is located). If you got the measurements and decide to get one of our custom shoulder rigs, just provide the information in the "your note" field when placing the order.
Adjusting your shoulder harness for perfect and comfortable fit is also very simple. Just do the following:
Untie the screws of your harness
Adjust the harness according to your needs
Adjust the holster and counterbalance part so that you can reach for your gun and spare ammo easily
Note that the length of the harness on the holster side may or may not be the same as the length of the harness on the counterbalance side
Once you've found the right length, make sure the harness does not obstruct your movement
Our shoulder rigs also come with belt tie-down straps, use them if you feel your harness doesn't feel stable enough
Selecting the best shoulder holster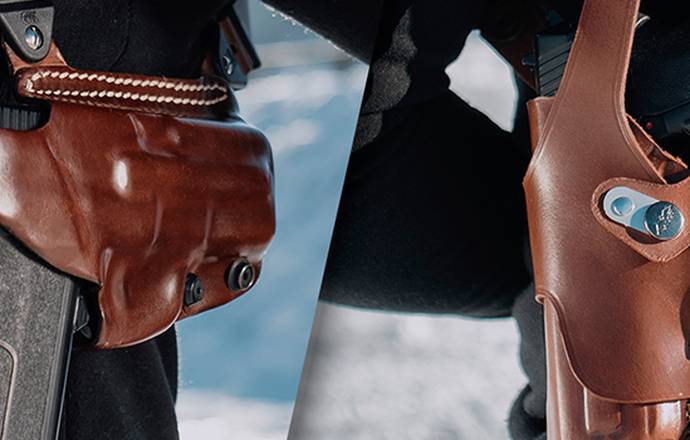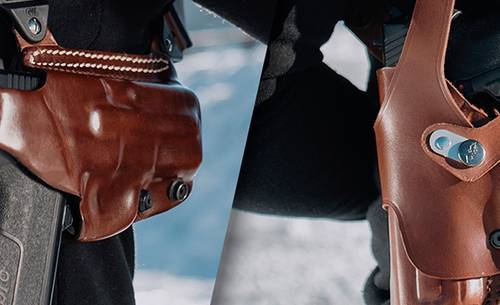 Now that you know everything about the advantages of shoulder holsters and the proper mounting and adjustment of shoulder rigs, there's only one more thing to cover - the best shoulder holsters for everyday concealed carry.
Just like I mentioned in the beginning, a shoulder holster is a good carry option only when it's well-fitting. Both to your body and, most importantly, your handgun. Luckily, our shoulder holster systems meet these requirements. All of them are custom hand made, built on the exact replica of your firearm, providing a perfect, glove-like fit for your firearm. Our shoulder rigs are available for both pistols and revolvers, they come in mahogany and black leather and you can get them no matter if you are a right or left-handed shooter. And the harness they come with can be made to fit even the biggest guys. And did I tell you all of our shoulder holster rigs come entirely assembled?
This is probably the most popular vertical carry shoulder rig on our offer. The unique roto system means your gun is drawn from the horizontal position, resulting in a much quicker draw. The holster and counterbalance ammo pouch are made of the best available materials - premium Italian leather and high-quality German threads. Wet-molded on the exact replica of your gun, the holster grants a custom, glove-like fit.
This horizontal shoulder rig is another favorite on our offer. It's wet-molded on the replica of your gun, which delivers a truly custom feel and perfect fit. It's made of premium Italian cow-hide available in both mahogany and black color. The holster comes with a double magazine or speedloader pouch, allowing you to carry a lot of extra ammo. And that's not all. The holster can be dismounted from the harness and function as a great belt holster (in multiple positions!).
This rig is designed for horizontal carry. And although it doesn't come with a counterbalance mag or speedloader pouch, the system still offers great stability and high carry comfort. The holster itself is hand made and wet-molded on the exact replica of your gun, which results in a great fit and truly custom feel. Just like the previous one, the holster can be taken down from the harness and utilized as a great belt holster.
Conclusion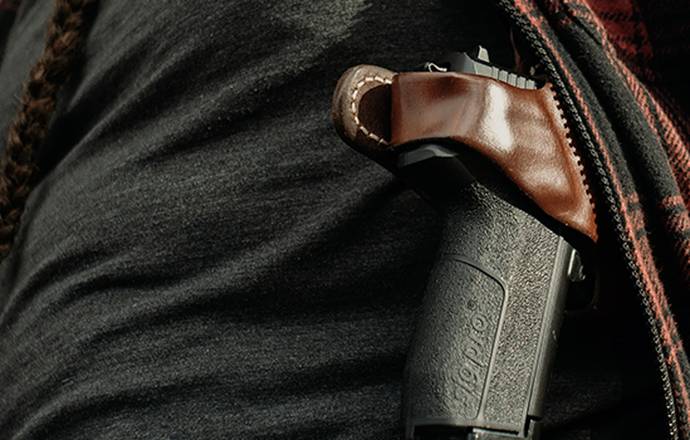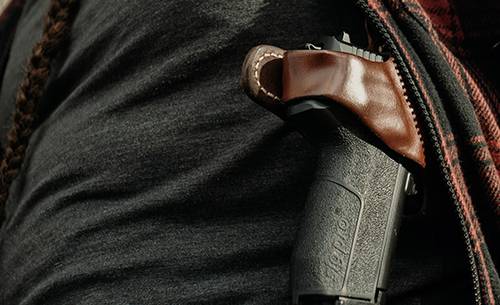 Although shoulder rigs have been lately falling out of fashion and there are more budget-friendly and better concealment options, they still offer many benefits for everyday gun carry. From great concealment in colder months through undeniable style, with a bit of practice, they will satisfy the needs of even the most demanding gun lovers. If you have just gotten your first shoulder holster system, just follow our instructions on how to properly mount and adjust it. And if you're just deciding which shoulder rig to get, make sure you give our custom shoulder holster offer a proper look.

Do you fancy some more light reading? Then carry on with these articles