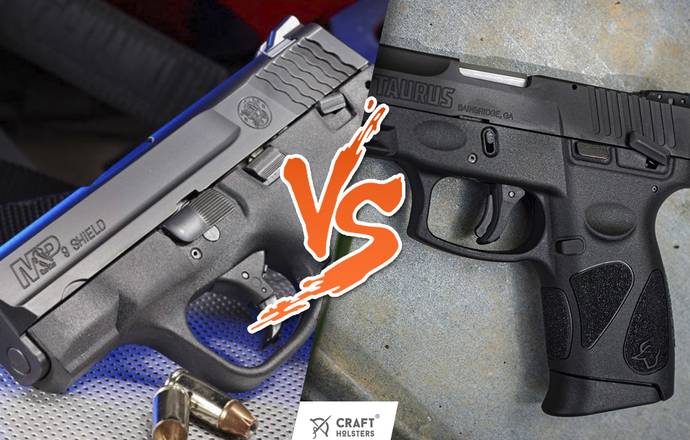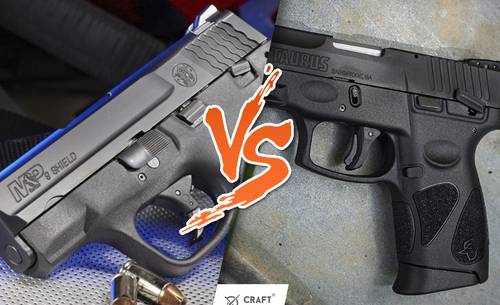 Source: www.tactical-life.com / www.ammoforsale.com
Smith and Wesson is one of the biggest American based gun manufacturers. The company was founded by Daniel B. Wesson in 1856 in Springfield Massetchussets. Later on in history, they were renamed Volcanic Repeating Arms and after that, the Winchester Repeating Arms Company. Today the company is best known for their M&P series of pistols as well as the M&P series of rifles.
The Smith & Wesson's M&P9 Shield is one of the best known and best selling subcompact pistols currently on the market. The M&P9 Shield is a striker-fired, short recoil-operated, semi-automatic pistol with a Browning-type locking system. The pistol was first introduced in the year 2005 and is still used and beloved by thousands of people all around the globe. This is thanks to its compact size, durability and overall construction. But there are a few main competitors of this particular pistol and we decided to compare it with the Taurus G2C, which is one of the best known competitors.
To point out the main differences and similarities between these two well known guns, we created this brief article. Hopefully, it will help you to choose your favourite gun for everyday concealed carry.
Contestant #1 - M&P SHIELD 9MM

Source: www.tactical-life.com
The Smith & Wesson M&P Shield 9mm is compact pistol that has a 3.1 inch long barrel, which means it can be easily hidden if using a well-fitting Smith & Wesson M&P Shield holster, which is ideal for everyday concealed carry. In terms of capacity, the 9mm version can hold 8+1 rounds in its detachable magazine. The Shield houses a 3.1" barrel which clearly shows that this pistol is 100% intended for concealed carry and not long-distance or accuracy shooting. This of yours does not mean that the pistol is inaccurate or that you cannot score a good hit beyond 20 feet but for that purpose, there are other pistols that will do that particular job much better than a small compact-sized Smith & Wesson M&P. If you'd like to know more, just check out our Smith & Wesson M&P Shield 9mm review, available here.
Contestant #2 - TAURUS G2C

Source: www.ammoforsale.com
The Taurus G2C belongs to very affordable everyday concealed carry guns. A huge advantage of this gun are its compact dimensions the same as its high 12+1 magazine capacity and so far great reliability. Some shooters are still aware of this brand and don't trust the brand, but overall it is a good choice for those who want to have an acceptable quality for a reasonable price. If you are interested in finding out more about Taurus G2C and all of its features, read our Taurus G2C review.
SHIELD 9MM VS TAURUS G2C - IMPORTANT SPECS AND FEATURES
Both S&W M&P Shield 9mm and Taurus G2C assume the main features making them a good choice for everyday concealed carry. Although there are some differences between these models that can count when considering to choose one of them as a part of your EDC. So let's take a deeper look into the similarities and differences of the S&W M&P Shield 9mm and Taurus G2C.
SIZE COMPARISON  - THE BIGGER, THE BETTER?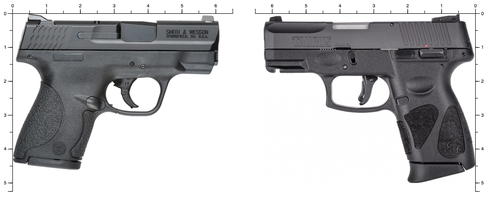 Source: www.handgunhero.com
Well, sometimes the size really matters, especially when talking about the concealment. In this case, the smaller the gun is, the more compact it is, the better result you get when concealed carrying it. The Smith & Wesson M&P Shield is 6.1" long and 0.95" wide, featuring a 3.1" long barrel. Although its compact size results in super easy concealment, the firepower is a little lower when compared to the Taurus G2C.
The Taurus G2C is also designed the way it can be used as a concealed carry gun. The overall length of this pistol is 6.25", it is 1.25" wide and it's equipped with a 3.25" long barrel. With regards to the dimension of both models, it is obvious that the Smith & Wesson M&P Shield 9mm is a little bit more compact than the Taurus G2C. It is smaller in all dimensions and that's making it the the Smith & Wesson M&P Shield 9mm a little bit more suitable for concealed carry though.
When talking about the weight, the Smith & Wesson M&P Shield 9mm with its 19oz is also a little less heavy than the Taurus G2C with its 22oz. Although the difference is not that significant, it counts when talking about everyday concealment and gives the Smith & Wesson M&P Shield 9mm advantage.
This means that the first battle point goes to … the Shield.
THE MAGAZINE AND CAPACITY
Although both these pistols S&W M&P Shield 9mm and Taurus G2C are very similar with regards to their overall dimensions, they are very different when it comes to the magazines and their capacity. The Smith & Wesson M&P Shield 9mm comes with only the single stack magazine and a capacity of 8+1 (or 7+1) rounds of 9mm Luger ammo. Though this lack of capacity can be easily solved with extended magazines available on the market. By adding an extended magazine to your Smith & Wesson M&P Shield 9mm you can increase the capacity to 10 rounds, 17 rounds or even 32 rounds, which is really more than enough.
In comparison with the S&W M&P Shield 9mm, the Taurus G2C pistol has a bigger magazine capacity in general which is 10+1 rounds. It comes with a double stack magazine that can hold 12+1, 15+1, or 17+1 rounds of 9mm ammo.  And it can be also extended by adding aftermarket magazine extensions.
So it seems the second point goes to … the Taurus G2C.
ACCURACY AND RANGE PERFORMANCE
When talking about the accuracy and range performance, the S&W M&P Shield 9mm seems to be nicely balanced and, despite its traditional 18° grip angle, it points well. But well means not great. If the Shield's handle was canted another 3° or more, it would definitely help. At CCW self-defense distances, aligning the sights on targets isn't too challenging. The front blade is of average thickness, which is a problem at longer distances where the blade obscures too much of the target. While the front blade of the S&W M&P Shield 9mm is too wide for precision distance work, the rear sights are placed widely enough to allow adequate light to pass through. The heavy trigger cost this pistol a star. The three-dot sights and the pistol's short sight radius works fine at 10 yards and under, but it outclasses at distance. The pistol, with its 18-degree grip angle, is great to hold and recoil is well-managed.
Since Taurus G2C was designed to be a CCW, it shows in its compact size which can cause a little difficulties while being used by a shooter with larger hands. Taurus G2C comes with standard three-dot style plastic sights. The 3-dot sights are common and easy to use by basically everyone and good enough to be a minute of man at 7-yards. But there is one additional thing you wouldn't expect to see on a budget pistol like this and it is an adjustable rear sight! That helps to increase the accuracy and target acquisition of this pistol. So you can put shots on a torso target with no sweat. In addition there are many aftermarket accessories that get this pistol on a higher performance level.
In this battle it seems that both pistols have their pros and cons when it comes to accuracy. They are similar within the shooting experience and both are more suitable for shorter distances rather than being used for a long distance shooting. So it's really hard to choose a winner, as both pistols provide quite nice accuracy results, but I think the slight advantage goes to our S&W M&P Shield 9mm pistol.
What else to add? This battle point goes to … the Shield.
CALIBER AND FIRING MECHANISM
As previously suggested, the Taurus G2C comes with 2 caliber options while the Smith & Wesson M&P Shield comes just with one. Let's start with the caliber that is used by both these pistols and it is the one and only 9mm Luger cartridge. The 9mm definitely is the most popular (and affordable) caliber when it comes to everyday carry guns, although it is not as firepower as the bigger calibers. Here is another category where the advantage goes to the Taurus G2C as it also comes with a more powerful .40 S&W caliber.
The S&W M&P Shield and Taurus G2c are identical when talking about the firing mechanism, as both pistols are striker-fired. It simply means that a striker-fired pistol engages a round via a striker hitting the firing pin. The firing mechanism is built into the pistol and fully covered by the pistol's slide. This kind of firing mechanism has a lower firepower than for example hammer-fired pistols. Although it doesn't require the gun to be composed from that many parts and that results in a lower risk of any hardware malfunctions. So in this case there is nothing to compare.
Based on the caliber, the last point goes to … the Taurus G2C.
side-by-side comparison of the main specs
So, based on the categories above, both pistols seems like an ideal CCW choice. Let's wrap our comparison of these two carry guns with their main specs. This might actually help us decide which one takes the edge.
   

S&W M&P SHIELD 9MM

TAURUS G2C

Caliber

9 mm Luger

9mm Luger

40 S&W

Width

0.95''

1.25''

Overall length

6.1''

6.25''

Heigth

4.6''

5''

Weight

19-oz

22 oz (fully loaded)

Barrel Length

3.1''

3,25''

Magazine

Single stack

Double stack

Mag Capacity

7 +1, 8 +1

10+1, 12+1, 15+1, or 17+1

Trigger

Striker-fired

Striker-fired

Frame Material

Zytel polymer

Polymer

MSRP

Ca. $374

Ca. $317
How to conceal carry M&P9 Shield and Taurus G2c?
As previously mentioned, both the Smith & Wesson M&P Shield 9mm and the Taurus G2C were designed with concealed carry in mind. And both pistols are excellent at that, which is why you should go for a S&W M&P Shield 9mm CCW holster or Taurus G2c concealed carry holster respectively. In case you're not so much into CCW and you prefer other carry styles more, don't worry. The compact dimensions of either of these pistols make them easy to conceal even inside an OWB holster. Just have a look at these Shield OWB holsters or these outside the waistband holsters for Taurus G2c. There is so much to choose from.
And if it's hard for you to decide which holster would fit you the best, our list of the best Smith & Wesson M&P Shield 9mm holsters will help you make the best decision. BTW, if you decide to give way to the Taurus G2c instead, we've also released a list of the top Taurus G2c holsters for 2021, so do not hesitate to check it out.
CONCLUSION - The best gun for ccw
Now, when our ultimate pistol battle comes to an end, it is time to announce the winner of this challenge. When we take all of the features of both pistols under consideration, there are some areas where the Smith & Wesson M&P Shield 9mm surpasses the Taurus G2C, but there are also areas where the Taurus G2C seems to be a better pistol. So in this case, overall I would say the battle ends in tie.
But honestly it doesn't matter how this battle ends, it all falls down to personal preference. If you decide to get the Shield, you won't make a bad decision. The gun seems to be almost perfect for everyday concealed carry. Just don't forget to get a custom S&W M&P Shield 9mm holster for it, otherwise you won't be able to get the max out of this pistol's carry potential.
And if you end up getting the Taurus G2c, make sure you pair it up with a decent Taurus G2c holster. As the pistol is extremely budget-friendly, you'll definitely be able to save up a bit for a well-fitting holster.
DON'T LEAVE YET - YOU MAY FIND THESE ARTICLES READWORTHY
6 BEST TAURUS G2C LIGHTS AND LASERS [TO GET IN 2021]
SIG SAUER P365 XL REVIEW [2021]