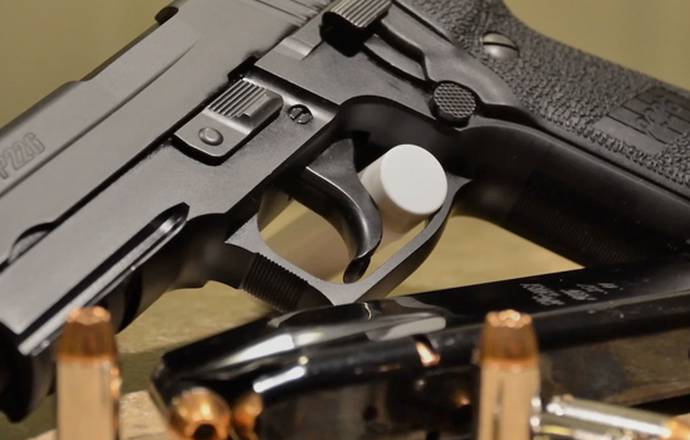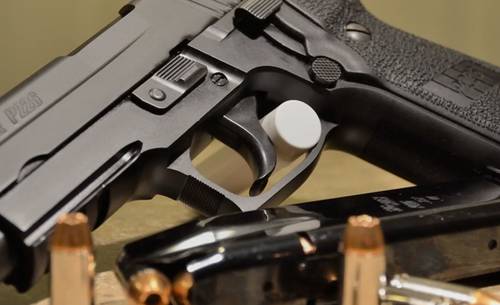 Source: nationalinterest.org
The SIG Sauer P226 is a favored full-size semi-automatic double-action pistol. The P226's main appeal is in its ergonomics. It's a larger handgun that's not too clunky to hold. It features a 4.4-inch barrel. This is the main reason why so many prefer P226 to let's say Beretta 92FS. The P226 has a double-action/single-action function, and a decocking lever just in front of the slide stop, allowing the user to cock the gun. It is available in four calibers and the newer models are equipped with a Picatinny rail.
The SIG P226 was originally designed by SIG particularly to compete in the US military trials. The gun was first released in 1984 and since then some minor issues have occurred. Therefore, I'll go through some of the most frequent Sig P226 problems, so keep reading!
Problem 1 - SIG Sauer P226 Magazine Issue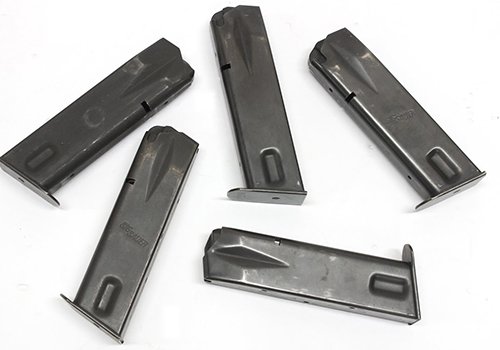 Source: sportsmansoutdoorsuperstore.com
The first problem on my list concerns one of the most important parts of every pistol, the magazine. A standard P226 magazine holds 15 rounds, but the number differs based on the caliber your pistol is chambered for (9mm, .357 SIG, .40 S&W, and .22 LR). Even though most SIG magazines are just fine, I'm quite worried there are some defective SIG P226 magazines on the market.
Most SIG P226 owners claim they've experienced what's called SIG P226 failure to feed. There have been many updates and new versions of mags are reliable and untroubled, however, some of the odd early mags might still be out there. If this is your case, then please replace the faulty mags as soon as possible.
Problem 2 - SIG Sauer P226 Firing Pin Issue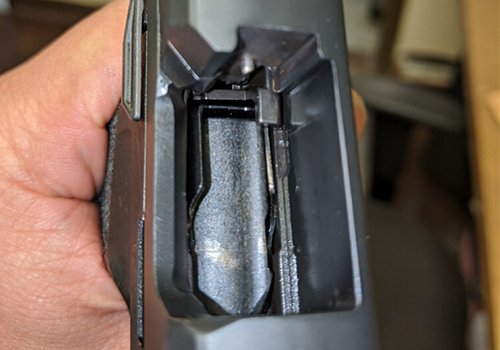 Source: sigtalk.com
Another problem you can come across with your SIG P226 is an issue with the firing pin. This means that the bullet doesn't go off once the firing pin hits the primer of the round. When this occurs, handle your SIG with an extra care!
The reason for this is that your SIG firing pin channel is blocked. Therefore, don't hesitate to clean it up. Another reason for the firing pin issue is that you are using ammo with hard primers. In this case, just ask guys in your local gun shop for ammo with softer primers. 
Problem 3 - Finding the Best SIG P226 Holster
Finding a solid SIG P226 holster isn't exactly a piece of cake. You need to consider many factors such as material, carry style, CCW laws, accessories, and so on. It's important to find one that fits your needs both aesthetically and functionally.
No matter what your preference is, make sure you get a custom made SIG Sauer P226 holster. Whether you decide for a kydex P226 holster or a SIG P226 leather holster, custom molding will ensure a glove-like fit.
If you prefer to carry concealed at all times, then SIG P226 IWB holsters are your best choice. Even though the CCW laws have never been stricter than these days, a SIG P226 OWB holster is still the most popular way to carry this pistol.
Bear in mind that your SIG allows the attachment of accessories such as laser pointers or tactical weapon lights. If you fancy such an accessory, grab one of the best light-bearing SIG Sauer P226 holsters. And if you're about to upgrade your P226 with a red dot sight, don't forget that you'll need a custom made SIG P226 holster with red dot.
Problem 4 - SIG Sauer P226 Extractor Breakage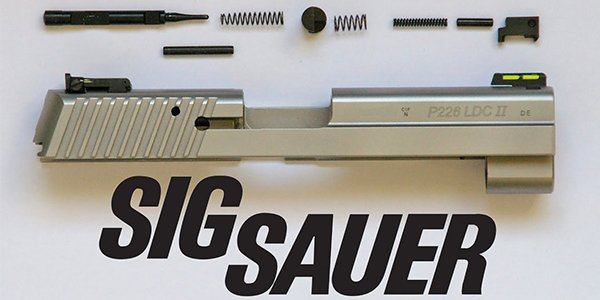 Source: youtube.com
Some SIG P226 fans and owners report extractor breakage, especially when it comes to the newer P226 versions. This is not a SIG-exclusive problem as any extractor might break over time, especially after years of constant use. However, if you're not able to see visible cracks on the extractor, it's likely your pistol is safe.
Fixing a broken SIG extractor is quite easy. It takes no more than 5 minutes and to keep a spare extractor is a good idea. They are relatively cheap too. 
Conclusion - Should I buy SIG Sauer P226?
It's true I've mentioned quite many SIG P226 problems, these pistols are known for their top-of-the-line quality and first-rate performance, and it's still generally accepted as one of the best sidearms ever produced.
Despite the fact that the SIG P226 is an older guy, released in the 80's, it doesn't lag behind even the latest self-defense pistols.
Overall, the SIG Sauer P226 is an excellent choice for anyone looking for a reliable full-size pistol that won't let them down in any situation. With its superior craftsmanship and unbeatable accuracy, this gun will serve you well whether you are just starting out or have been shooting firearms your entire life. Of course, it'll serve you so much better if you pair it up with a proper SIG Sauer P226 holster.
Do you fancy some more light reading? Then carry on with these articles