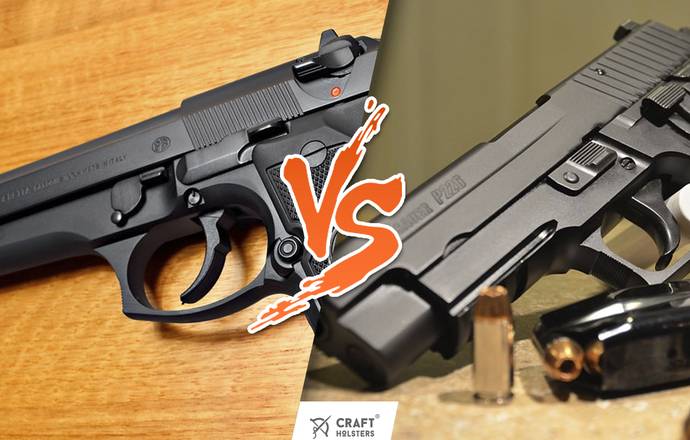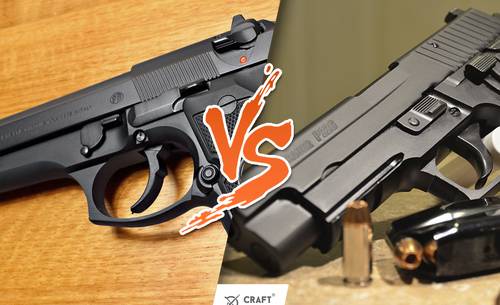 The Beretta 92FS is a short recoil semi-automatic pistol made by the Fabbrica D' Armi Pietro Beretta SpA. This pistol is hammer fired with a double-action (DA/SA) trigger. The Beretta 92FS was originally designed for military purposes. It is reliable and proven on the battlefield in humid jungles, on snow-covered mountains, and scorching deserts. But it's not only a favorite of military and law enforcement pros, but it's starred in many movies, television shows and video games. So there is no surprise that it became very popular and many folks own it.
There is also no surprise that the Beretta 92FS has a few competitors across the market. Some of the most known are Glock 17, Glock 19, Sig Sauer P226, CZ 75 B or even models made by Beretta just like the Beretta M9 or Beretta 92X full size. We decided to compare it with the Sig Sauer P226 and if you wish to find out more about the similarities and differences between these two lovely pistols, simply keep reading.
CONTESTANT #1 - BERETTA 92FS

Source: www.xenedis.net
The Beretta 92FS is a hammer-fired recoil operated semi-automatic pistol with a double action trigger. The 92FS belongs to the category of full-sized pistols and comes with a 4.9" long barrel. Overall, it is 8.5" long with a weight of 34.4-oz when unloaded. This lovely pistol is equipped with a double stack magazine that can hold up to 15 + 1 rounds of 9 mm Luger ammo. Although the Beretta 92FS is a full-sized gun, it can still be well hidden inside a custom Beretta 92FS holster.
CONTESTANT #2 - SIG SAUER P226

Source: www.wikipedia.com
The Sig Sauer P226 was designed as a service-type gun for the U.S. Army and has been carried by the U.S. SEALs, Texas Rangers and other military and law enforcers worldwide in various models such as the P226 ASE, P226 HSP, P226 Nitron, P226 SAS etc.
It's design is based on a former Sig Sauer model, but it has a higher capacity and double-stack magazines, one of the most used models is the Sig Sauer P226 Emperor, The Sig Sauer P226 Extreme and the Sig Sauer P226 Enhanced. It's a mechanically locked, recoil operated DA/SA or DAO. Overall, the Sig P226 is 7.7" long with a weight of 31.7-oz when unloaded and it comes with a 4.4" long barrel. It comes with a double stack magazine that can hold up to 15+1 rounds. The Sig Sauer P226 belongs to the category of full-sized pistols, but even though it is a bigger gun, it can be easily hidden especially in a well-fitting P226 holster.
Comparison of main features
Although both the Beretta 92FS and the Sig Sauer P226 are full-sized pistols, they are not the same within the dimensions. Overall the Beretta 92FS is a little bit longer, with a longer barrel and also a bit more heavy than the Sig Sauer P226. Beside that, there are a few more differences between the two and the main would be probably the firing action, as the Beretta 92FS is hammer-fired and the Sig P266 is striker-fired. Explanation of this difference is described in more detail in the "Caliber and Firing mechanism" section.
Let's now focus on the main specs and features of these two pistols to find out which one represents the better choice for you.
Round 1 - Size comparison

Source: www.handgunhero.com
The more compact the gun is, the easier it is to carry it concealed. Otherwise, if you're looking for more comfortable shooting with higher fire power, that's what the bigger guns offer. So size is one of the factors that definitely counts. Especially if you are looking for a new CCW or EDC gun.
When it comes to dimension comparison between the Beretta 92FS and the Sig Sauer P226, the Sig is overall more compact and lightweight than the Beretta. The Beretta 92FS is overall 8.5" long, 1.5" wide, 5.5" high and weighs 34.4-oz when unloaded. And it comes with a 4.9" long barrel. In comparison to that the Sig Sauer P226 is overall 7.7" long, 1.5" wide, 5.5" high and weighs 31.7-oz when unloaded. It has a barrel of 4.4" length.
Based on the dimensions and weight it is obvious that the Beretta 92FS is more heavy and less compact than the Sig P226. So when keeping the concealment in mind, the Sig is definitely more suitable for concealed carry than the Beretta.
This means that the round one goes to … the P226.
Round 2 - MAGAZINE AND CAPACITY
Both Beretta 92FS and the Sig Sauer P226 come with a double stack magazine, but there are differences between the capacities of those magazines. While Beretta 92FS initially comes with a magazine that can hold up to 15+1 rounds of 9mm Luger ammo, the Sig P226 offers more options. The P226 comes with a magazine with a capacity of 15+1 rounds (9mm Luger), but it is also available in 10+1 rounds of 9mm ammo. What more, the Sig P226 can be chambered with the .40 S&W cartridge as well. For this cartridge, you can choose two mag capacities - 10+1 or 12+1.
Although the magazine capacity of both these pistols is quite sufficient, some folks rather have a higher capacity. Fortunately, it can be easily increased with an extended aftermarket magazine. The Beretta 92FS extended magazine can hold up to a maximum of 30 rounds of ammo, which is more than enough. The extended magazines for 92FS cost approx $38 each. The mag capacity of the Sig Sauer P226 can be extended to a maximum of 32 rounds which is quite impressive. The Sig P226 extended magazines are a little less expensive and cost from approx $18 to $23, depending on the brand.
Based on the magazines and capacity, the second round is also won by… the P226.
Round 3 - ACCURACY AND RANGE PERFORMANCE
Shooting the Beretta 92FS is really lovely. It is a natural shooting weapon even for beginners. Yes, it's a big weapon, but that size and weight is an advantage. Recoil is very low, as is muzzle rise. It's easy to keep it on target and doesn't scare new shooters due to recoil or discomfort. For more experienced shooters taking a practical shooting outlook, the Beretta 92FS excels. It's straightforward to control and to keep or get back on target. Even out to 50 yards, it seems to be very accurate. The little recoil and muzzle climb make it an excellent combat pistol.
When it comes to the accuracy and the range performance of the Sig Sauer P226, it is very nice as well. The P226 has proven itself as a reliable gun, but it should be lubed, otherwise it can get a little fussy. The Sig may not be for everyone (especially newbies), but it cannot be faulted on reliability and accuracy potential. The P226 was designed for military use and met stringent requirements. And so the pistol is proven. The load is very accurate, it comes on target quickly and with the proper technique, the trigger action is smooth and offers excellent hit probability. At a long 25 yards, firing from a standing barricade position, a five-shot group settled into less than two inches with the FMJ practice load.
As both these pistols seem to be accurate enough, bringing a very nice shooting experience, it is really hard to say which one is better. So in my opinion this is more about the brand preferences and other features to be taken under consideration when deciding which one to choose, not the accuracy.
Based on the accuracy and range performance, another round ends in … a TIE.
Round 4 - Firing mechanism
Our two contestants are totally different when it comes to the firing mechanism they use. The Beretta 92FS is a hammer-fired pistol, but what does it exactly mean? A hammer-fired pistol has a trigger that releases or both cocks and releases a hammer to strike a firing pin. That firing pin impacts the primer of the chambered round, causing the pistol to fire. Basically, the firing pin inside the slide of the pistol does not move until the hammer, under spring pressure, impacts it and causes it to, in turn, impact a cartridge's primer. The main advantage of a hammer-fired pistol is that they tend to be conducive to accurate shooting and can have very clean and crisp trigger pulls.
Compared to that the Sig P226 comes with less firepower, as it is a striker-fired pistol. As most double-action semi-automatics, it is built to be DA/SA which is Double-Action to Single-Action. This means that the first round fired will be a double-action trigger pull, where the trigger both cocks the hammer and releases it in one pull, and then every follow-up shot will be single action. The way this works is that the firing of the round causes recoil which pushes the slide back, ejects the spent casing and chambers a new round. At the same time though, this recoil is resetting the hammer and arming it for the next shot, so the shooter does not have to cock the hammer manually or revert back to double-action trigger pulls again. This allows all shots from the 2nd onward to be shorter and lighter single-action pulls.
Overall, both of these firing mechanisms have their advantages and disadvantages. Striker-fired guns have less firepower, but they don't consist of that many parts as the hammer-fired guns, that's why there is a less possibility of malfunction.
As firing mechanism and trigger action are strictly a matter of personal preference, I'd say this round also ends in ... a TIE.
Round 5 - Comparison of key specs
Having outscored the 92FS in two straight rounds and reaching a tie in another two, it's looking like the SIG is a clear winner of this battle. However, we haven't yet looked at the basic specs of these two pistols. So, let's see if the Beretta can win at least the final round.
| | | |
| --- | --- | --- |
|     | BERETTA 92FS | SIG SAUER P226 |
| Caliber | 9mm Luger | 9mm Luger, .40 S&W, .357 SIG |
| Width | 1.5 inch | 1.5 inch |
| Overal length | 8.5 inch | 7.7 inch |
| Height | 5.5 inch | 5.5 inch |
| Weight (loaded) | 34 oz. | 34 oz. |
| Barrel Length | 4.9 inch | 4.4 inch |
| Magazine | Double stack | Double stack |
| Mag Capacity | 15+1 | 10+1 to 15+1 (all calibers) |
| Trigger | Hammer-fired | Striker-fired |
| Hammer | Yes | Yes |
| Frame Material | Anodized aluminum | Anodized aluminum |
| MSRP | ca. $699 | ca. $1028 |
Now it would be quite unfair if we've given another point to SIG based on its more compact parameters and a variety of available calibers. After all, the pistol has already taken two points in the rounds devoted to these features. But I'm sure the last category, the price either of these pistols comes at, is certainly worth your attention. And even though the Beretta isn't the cheapest full sized pistol in the market, compared to the P226, it certainly is much more affordable.
And exactly because of MSRP of either of these handguns, the last point in our battle goes to ... the 92FS.
How to upgrade Beretta 92FS and SIG P226?
As the market is full of gun accessories, there is always a space to upgrade your gun. Such a nice example of the Beretta 92FS aftermarket attachment is the Red Laser Sight with Grip activation made by Armalaser. The ArmaLaser TR20 is designed to fit Beretta 92, 96, M9, 92FS, 96FS (does not fit variants with rail). The 635nm Red Laser is extremely bright, considerably brighter than 650nm lasers. This adjustable laser also comes with a battery door and master kill switch. And it is made of DuPont Zytel polymer pistol material making it durable. This Beretta 92FS laser costs $98.75 (price accurate at the time of writing).
There are a lot of Sig Sauer P226 aftermarket attachments available as well. Such as the Compact red laser attachment made by Trinity. For faster target acquisition mount the 635-655 nM red dot sight attachment and acquire targets with ease. The laser itself comes with a hard anodized aluminum construction and is designed to mount onto handguns that have a Weaver Style Accessory Rail Under the Barrel. This Sig P226 Red Dot Sight with on-off switch is fully adjustable for windage and elevation. The price of this P226 laser sight is just $27.95 (price accurate at the time of writing).
How to conceal carry the Beretta 92fs and sig p226?
Based on the dimensions of these pistols, it is obvious that the bigger and heavier Beretta 92FS is less suitable for concealed carry than the more compact Sig Sauer P226. As it is smaller and more lightweight with a shorter barrel, it is also easier to conceal it within the appropriate holster or use it as an EDC gun. However, if you're not a fan of concealed carry and you're looking for a reliable self-defense pistol, the Beretta 92FS would be the right choice for you.
So really it is up to your preference and the main purpose you expect to get from a new gun. However, no matter which of these pistols you decide, always remember to find a well fitting holster to secure your gun. Fortunately you don't have to spend a lot of time searching for them, as we have a big offer of the Beretta 92FS holsters as well as of the SIG P226 holsters in a different carry styles and material used and for both right and left handed shooters.
CONCLUSION - WHO WINS THIS BATTLE?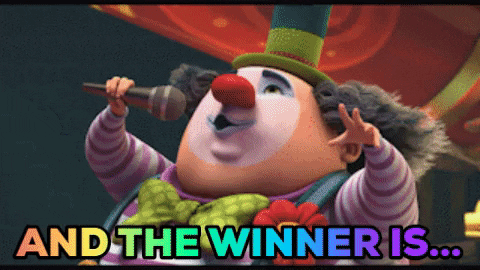 Finally it's the time to announce the winner of this ultimate pistol battle. Although the Beretta 92FS and the Sig Sauer P226 are similar in design and both belong to the category of full-sized pistols, there are still quite many differences between them. From the initial magazine capacity and cartridge used, to the different firing mechanism.
Overall, I would say that both the Beretta 92FS and the Sig P226 have a lot to offer, but it's the SIG that takes a slight edge. And it's the case mainly if you're looking for something a bit more compact or if you don't want to be restricted by a number of cartridges you can pick from. However, if you're looking for a more affordable option, then the Beretta will do the trick.
Do you fancy some more light reading? Then carry on with these articles:
The 4 Most Troublesome Beretta 92FS Problems
The 5 Best Beretta 92FS Lights And Lasers [To Get In 2021]