Fan Makarov Favorite Holsters
The Story of Makarov Holsters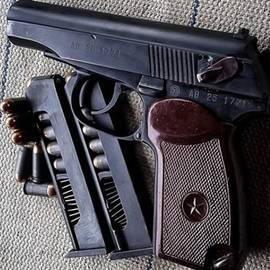 The Makarov pistol, or PM, was designed by Nikolay Makarov in then Soviet Union. This pistol was adopted in 1951 by the Soviet Union Army and Police and become the standard sidearm, from 1951 to 1991, following a competition with aim to replace the Tokarev TT-33 semi-automatic pistol and Nagant M1895 revolver which were a bit rusty.
The major aim of the development of the Makarov pistol was to design a pistol with a simplicity and economy. Even though the nominal caliber of this pistol was 9 mm, the actual bullet was 9.22 mm in diameter, since caliber in Russia is measured a bit differently. It is measured between the grooves and not the lands of the rifling.
The PM has remained for the several decades in wide front-line service with Soviet military and police until and also beyond the end of the USSR in 1991. The Makarov was formally replaced in 2003 by the Yarygin pistol in the Russian service, although as of 2012, quite large number of Makarov's are anyway still in Russian military and police service. Many Eastern European and former Soviet republics have adopted the PM as its service pistol and the PM even still serves. It's designer Nikolay Makarov thought the firing pin of an insufficient mass to constitute a major danger.
Select your Makarov model