The Story of HS Holsters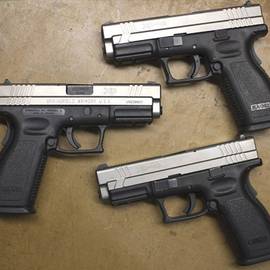 The HS Produkt d.o.o. is a Croatian firearms manufacturer, well known for its modern design and production of reliable pistols. The first models of the HS pistol line were PHP and HS 95. In mid 2001 was signed a long term contract with the American company Springfield Inc, which is the main representative of the HS Produkt at the North American marketplace.
The HS Produkt exports even 95% of its production to the US market. In 1992, HS created a bullpup variant of the 7.62 mm Kalashnikov assault rifle. In the mid-1990s was tested a delayed blowback model, however the results were still not satisfying, and it was superseded by a design quite similar to the M16 rifle. A new prototype of the rifle, which design is quite similar to the French Famas, was publicly announced in 2005 and also presented to the Croatian Minister of Defense. On November 19, 2007, the Croatian Ministry of Defence placed an order for an experimental batch of 50 rifles to be tested by the Croatian Army then deployed in the mission in Afghanistan as the part of the ISAF.
On November 24, 2008 the HS introduced the final version of the VHS assault rifle, which is pretty popular worldwide. On May 12, 2009 Branko Vukelić, the Croatian Minister of Defence, confirmed the positive conclusions of series of tests and on May 15 officially signed a contract with the HS for the acquisition of 1,000 rifles of the both variants.
Select your HS model