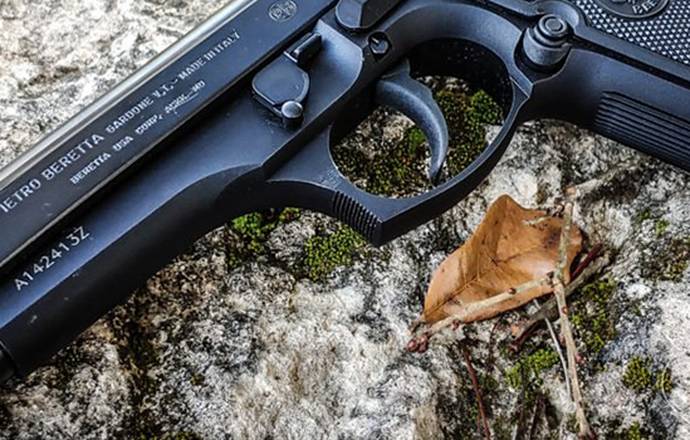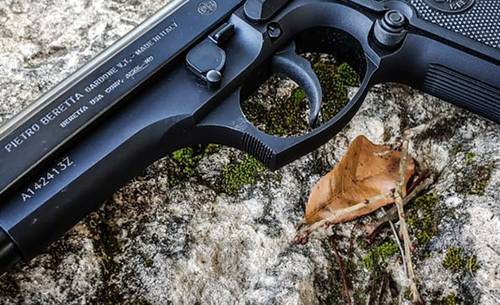 Source: www.pewpewtactical.com
The Beretta 92FS is a short recoil semi-automatic pistol with a double-action (DA/SA) trigger made by the Fabbrica D' Armi Pietro Beretta SpA. The 92FS is a full-sized pistol that comes with a 4.9" long barrel and was originally designed for military purposes. This pistol is not only favourite among the Military and Law enforcement. It starred in many movies, television shows and video games which raised its popularity among the folks. The Beretta 92FS is equipped with a double stack magazine that can hold up to 15 + 1 rounds of 9 mm Luger ammo.
The Beretta 92FS is known for its reliability and was proven on the battlefield in humid jungles, on snow-covered mountains, and scorching deserts. However, some folks consider it to be a little dated and occasionally a few minor issues can occur when using it. If you wish to find out more about these eventual issues, keep reading.
#1 Issue - BERETTA 92FS JAMMING PROBLEMS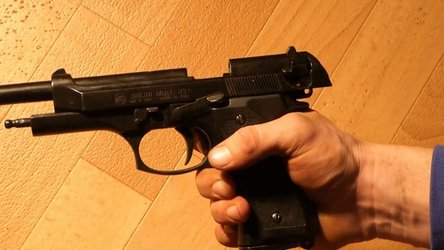 Source: YouTube/GoodMods
One of the common problems with many handguns, including the Beretta 92FS, is the jamming issue. It can happen especially when shooting with the new 92FS out of the box and trying to break it in. The spent casing can fail to eject and the slide is half open with a half seated fresh round. By pulling the slide back the round would eject and you should be able to fire again.But it can be that the springs aren't providing enough upward force and you are then unable to physically push another bullet in. As a result the pistol can be jammed on every shot.
However, most of the time the issue can be resolved by thoroughly cleaning the pistol of its shipping oil and heavily lubricating the slide and other essential parts where there is significant friction. After reassembling you should be able to successfully shoot the ammo without an issue. If you experience such a problem, I would recommend you to contact the Beretta support and they'll surely be willing to help you. Or in case you need more information regarding the jamming issues, simply check the posts of other shooters experiencing them at the Northeast Shooters Forum or at Handgun Forum.
#2 issue - BERETTA 92FS ACCURACY PROBLEMS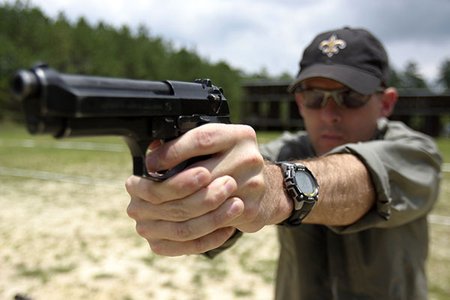 Source: www.americanspecialops.com
Although the Beretta 92FS is known as quite reliable and accurate pistol, still some shooters experience minor accuracy issues. Even though there might be no problems at all functionality wise, for some reason you can have a difficult time hitting targets, and maintain decent grouping. Sometimes the accuracy is much better when using .124 grain vs .115 grain. But still the placement can be very inconsistent.
Some people that experienced such an issue simply changed the factory plastic guide rod and recoil spring, replaced them with a stainless rod and a yellow zinc coated recoil spring from Beretta, which helped. But not in each case. So I would recommend checking the pistol parts properly at first and try to identify the issue correctly. Or in case, you're a newbie to the shooting or not so experienced with guns, you'd rather contact the Beretta support for help right away.
If you want to improve the accuracy and target acquisition of your Beretta, the surest and quickest way to do this is getting yourself a Beretta 92FS light or laser. And if you check out our recent blog, you'll come across some of the very best of such Beretta 92FS attachments.
#3 issue - beretta 92fs failure to feed problems

Source: www.reddit.com
Another common issue that can cross your way even with the Beretta 92FS pistol is the failure to feed. It can happen that the gun will shoot some rounds and then the slide will stay open and the bullet will not chamber. Sometimes the cleaning helps, but other times this issue can occur no matter if you cleaned the pistol or not. Or from time to time the issue can be caused by the ramp may be dirty or the magazine is a bit wet from oil in the gun.
Try to wipe it down before you use your 92FS and suppose to help. However, not always, so in case you'd experience this type of problem, I would definitely recommend to contact Beretta directly to help you solve it or replace the pistol, or its parts.
#4 issue - finding the right beretta 92fs holster

The opinions on the Beretta 92FS are various. Some folks simply love it the way it is, some claim it is dated and rather choose a different model. But you know each of us has different preferences. I'm still convinced that the Beretta 92FS is a nice pistol and the overall value it brings outweighs its minor issues that can occasionally occur. And if you're considering buying a new Beretta 92FS or already bought one, there is another, let's say issue that should be solved. And that's definitely the need of finding the well-fitting Beretta 92FS holster. Fortunately, you can easily overcome this issue with our offer of Beretta 92FS holsters.
In case inside the waistband carry is not your favourite and you prefer OWB more, we have the whole line of Beretta 92FS OWB holsters. However, if you prefer IWB or concealed carry better, don't worry, as we have the whole offer of Beretta 92FS IWB holsters. So there's definitely a lot to choose from. And what for more, all of our Beretta 92FS holsters are molded on the exact replica of this gun to assure a fit like a glove.
Conclusion - is beretta 92fs worth buying despite its issues?
Overall, the Beretta 92FS is still well worth it, even if some issues may occur. The same or similar issues can be found within other guns too, so why should it be worse than others? As I already mentioned, shooters either love it or hate it with regards to their preference.
However, if you're not decided yet whether to buy or not to buy a new Beretta 92FS, or you simply need more essential information about the 92FS pistol, fortunately the internet is full of well-made Beretta 92FS reviews and you should also check out opinions and experiences of other shooters that can be found on different gun forums. And if you already decided to buy one, don't forget to get a well-fitting holster for it.
Do you fancy some more light reading? Then carry on with these articles:
The 5 Best Beretta 92FS Lights And Lasers [To Get In 2021]
The Top 6 Beretta 92FS Holsters [Updated For 2021]
Taurus Public Defender VS S&W Governor - Which Revolver Is Better For Concealed Carry?