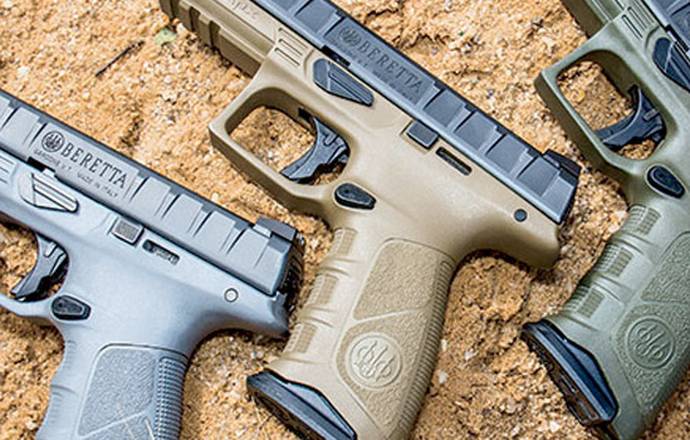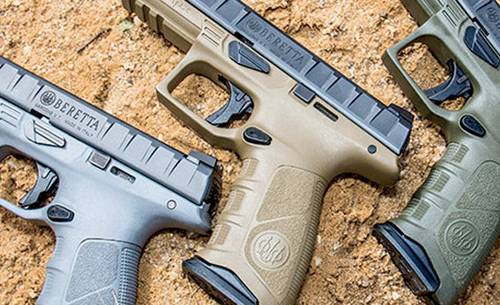 Source: www.gunsandammo.com
The Beretta APX is a recoil operated semi-automatic pistol with a single-action (SA) trigger made by the Fabbrica D' Armi Pietro Beretta SpA. With its 4.25" long barrel, the APX belongs to the category of the full-sized pistols and was originally designed for military and law enforcement purposes. The Beretta APX is available in two versions and relies on the use of either the famous 9mm Luger cartridge or .40 S&W cartridge, depending on the version chosen. The 9mm version comes with a magazine that can hold 17 rounds of ammo and the magazine of the .40 S&W version holds up to 15 rounds of ammo.
The Beretta APX pistol delivers superior performance in durability, reliability, ergonomics, trigger, and modularity and became very popular especially for range or competition shooting. However, there are still a few minor issues that can occasionally occur when using this gun. To find out more about these eventual issues, keep reading.
Issue No.1 - BERETTA APX EXTRACTOR PROBLEMS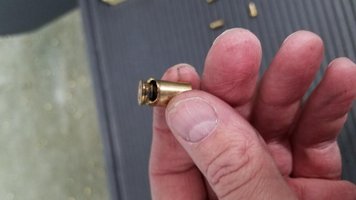 Source: www.pistol-forum.com
One of the common problems especially with the striker-fired handguns, including the Beretta APX, are the extractor problems. Like all modern pistols, the Beretta APX is designed to protect the shooter when something like this happens. Leaking gas is channeled into the magazine well, which usually results in the magazine itself projectile-ejecting. It can happen that the magazine body stays inside the pistol while the follower, remaining rounds, spring, and base-plate all jettisoned out the bottom. Then the extractor can blow off the pistol. The bullet can be then squirted out the muzzle and go downrange. However, the frame, slide, and barrel can still be all undamaged.
Or in the other case, a round is fired but isn't extracted out of the chamber. The extractor may require either tightening down or may require new springs in order to function properly. The extractor should have some play, but not too much. This fix is typically very easy and quite cheap. Fortunately the Beretta's support is willing to help you, so in case you experience this issue, contact them directly to help you solve it. Eventually, you can find more info about the extractor problems at the Pistol forum.
Issue No.2 - BERETTA APX accuracy problems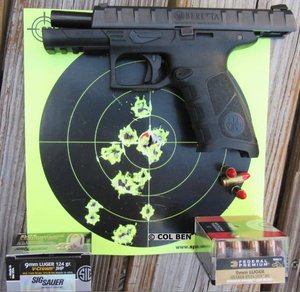 Source: www.usacarry.com
Although the Beretta APX is known as quite reliable and accurate pistol, still some shooters experience minor accuracy issues. For example, you may experience an abnormally large group size with no way to get a decent grouping with your APX. So what can exactly happen? If targets are set up at 15 feet and you shoot the whole cartridge, e.g. 10 rounds will be in about a three inch group and to the left of center. Which can mean a big issue for some shooters, especially when competition shooting. Fortunately, the problem with the accuracy can be solved and the APX's accuracy can be improved by adding the right aftermarket accessories to it, such as a Beretta APX tactical light or laser.
Issue No.3 - BERETTA APX spare parts issue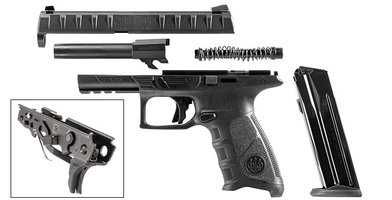 Source: www.americanrifleman.com
Another let's say issue that can cross your way with the Beretta APX is not enough spare parts available. You're not going to find maintenance and repair parts easily for an APX, they're just not a common tool, and they likely won't ever be. This isn't because of their quality, it's because of marketplace forces that drive such things. And if you're shooting a lot, as in, enough to build a real skill set, eventually you're going to need some spare parts, magazines and so on. And they are not just hard to find, it also brings additional costs.
Issue No.4 - finding the best beretta apx holster




I'm still convinced that the overall value of the Beretta APX pistol outweighs its minor issues that can occasionally occur. However, there is another problem that should be solved when considering buying or already bought Beretta APX. What is that? Definitely the need of finding the well-fitting Beretta APX holster. With our offer  you can easily overcome this problem and choose the right holster for your APX with regards to your preference.
If you're a fan of concealed carry, you can choose from the Beretta APX concealed carry holsters. In case inside the waistband or appendix carry is not your favourite and you prefer OWB style a bit more, then I suggest you have a look at one of these Beretta APX OWB holsters. No matter what your preferred carry style is, all of these Beretta APX holsters are molded on the exact replica of this gun, resulting in a perfect fit and one less Beretta APX problem you need to think about.
CONCLUSION - IS beretta apx worth it despite its problems?
It is no surprise that the Beretta APX as well as many other striker-fired pistols experience a few minor issues from time to time. But it is no rule to experience all of them or even one. However, it is always good to know what can go wrong with your pistol. And it is also good to take under consideration, that the issue is not always the matter of the gun, but it can be caused by the shooter or ammo as well.
Besides the minor issues mentioned in this article, the Beretta APX seems to be a reliable pistol beloved by many shooters. It has a lot to offer especially for competition shooters, it delivers superior performance in durability and reliability, ergonomics, trigger, and modularity. Although, in my opinion, this particular pistol is definitely more suitable for experienced shooters. As the newbies can find it a little hard to shoot.
Overall, the Beretta APX is still well worth it, even if some issues may occur. If you're not decided yet or need more information about the APX pistol, fortunately the internet is full of well-made Beretta APX reviews. And if you already decided to buy one, don't forget to get a well-fitting APX holster for it.
Do you fancy some more light reading? Then carry on with these articles: