3 Best Glock 43 Lights And Lasers [+ How To Mount Them]
3 Best Glock 43 Lights And Lasers [+ How To Mount Them]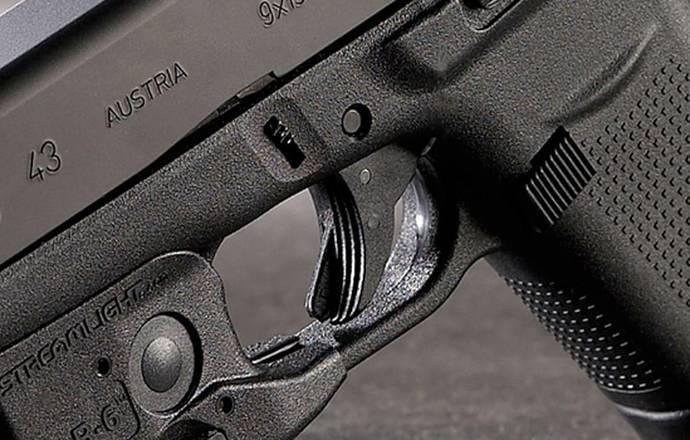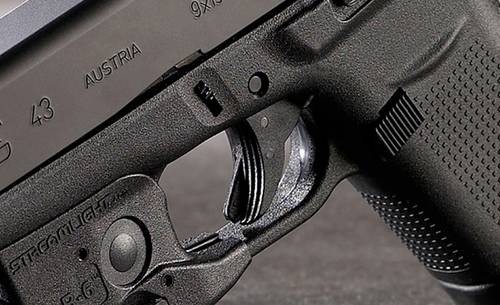 Source: www.dutchesportsacademy.com
There's no doubt that the Glock 43 belongs to the best concealed carry handguns ever made. Despite the fact that the pistol was introduced to the civilian market quite a long time ago (back in 2015), it still poses a threat even to the latest and most cutting-edge CCW pistols such as the SIG P365, Springfield Hellcat, Taurus G2c or the latest addition to the carry market, Ruger LCP Max.
There are plenty of reasons for the immense popularity of the G43, the main being incredible reliability and great performance packed inside such a small package. The tiny dimensions of the Glock 43 also result in super easy concealment, especially when you pair the pistol up with a well made Glock 43 holster. But there's a way how to make this seemingly perfect handgun one tad better - equipping it with a tactical light or laser.
Even though the pistol doesn't come with an accesory rail, which is one of the few downsides of this ultimate carry gun, there is a number of Glock 43 aftermarket lights or lasers that can be easily mounted onto its frame. So, without further ado, let's have a look at what your best G43 light or laser options are. And once you've read through our list, I'll also show you how to mount a light on Glock 43 without too much trouble.
#1 - Streamlight TLR-6 for Glock 43
Streamlight 69270 TLR-6 Tactical Pistol Mount Flashlight 100 Lumen with Integrated Red Aiming Laser
Prices accurate at time of writing
The first Glock 43 tactical light on our list simply has to be a product of Streamlight, the world's most popular designer of tactical lights. Their TLR-6 belongs among the best-selling weapon lights and this particular version was developed specifically for the G43.
Even though the power output of this Glock 43 light isn't anything special, 100 lumens can turn out to be a game changer, especially when it comes to home defense. But the real deal breaker of this light is the fact that it's actually a light and laser combo. The TLR-6 comes with a class 3R red laser, which is a further boost to your Glock's target acquisition.
BTW, this particular TLR-6 light is also compatible with the Glock 42, Glock 43, and Glock 48 (but only with their no rail/no MOS versions).
Features & Benefits
Power output of 100 lumens
A light and laser combo with multiple operation settings
Designed by one of the most trusted gun light brands
Designed specifically for the Glock 43, Glock 42, Glock 43X and Glock 48 (no rail or MOS)
This light won't work with the MOS or Rail versions of the Glock pistols above
Features a C4 LED illuminator and a 640-660nm red laser
89 meters beam distance
Runtime of 60 minutes
Available in 2 colors - black and desert tan
Super easy installation
Pros
Designed specifically for no rail Glock 43
A light and laser combo
Developed by Streamlight
Cons
Lower power output
Shorter runtime
Prices accurate at time of writing
#2 - Crimson Trace Lightguard for Glock 43
Crimson Trace Lightguard Weapon Light with Ambidextrous Controls
Prices accurate at time of writing
The second light on our list was also made by a popular brand - Crimson Trace. And despite the fact the power output of this light isn't anything special, the 110 lumens it offers are well compensated with a very favorable price tag.
A great benefit of this light is the fact that just like the TLR-6, this one also fits some other Glock pistols such as the no rail versions of Glock 42, Glock 43X and Glock 48.
Probably the best feature of the Crimson Trace Lightguard is the way it's attached to the pistol - the light wraps around the pistol's trigger guard. The only drawback this light has is that it doesn't come with a laser.
Features & Benefits
Features a 110 Lumen LED tactical white light with a broad beam
Designed by Crimson Trace, a well-known gun laser brand
External battery cap for quick and easy battery replacement (initial battery included)
Features ambidextrous Tap-On/Tap-Off Controls for immediate light activation from either side of the unit
Includes ON/OFF and Strobe modes
Constructed of anodized aluminum
Fits both Glock 43, Glock 42, Glock 43X and Glock 48 (won't fit the rail versions)
Light designed to securely fit around the trigger guard
Ruggedized polymer construction
Pros
Super budget-friendly
Features a strobe mode
Cons
Doesn't come with a laser
Prices accurate at time of writing
#3 - Crimson Trace Laserguard Red laser for Glock 43
Crimson Trace LG-443 Laserguard Laser Sight for GLOCK 42 & GLOCK 43
Prices accurate at time of writing
Number 3 on our list is an excellent Glock 43 laser sight solution, which is once again provided to you by Crimson Trace. This Glock 43 laser comes in two different version - red and greed. While the Glock 43 red laser features the brightest beam allowed by law and is a bit cheaper (approx. $190 is still quite a lot, though), the green laser is even better for target acquisition, especially in darker environments.
The installation of this Glock 43 Crimson Trace laser is very quick and convenient as it attached directly on the pistol's trigger guard. Also, the laser sight can be adjusted for both elevation and windage with the provided tool. On top of that, if you get this laser, you'll also be able to use it with a Glock 42, if you ever decide to switch to that gun instead.
Features & Benefits
Specifically made for the Glock 43 and Glock 42 (no rail, no MOS versions)
Features a 5mW peak, 620-670nm, Class 3R visible red laser - the brightest beam allowed by law
Front activation button engages the laser immediately when the firearm is held in a normal firing grip (this is the feature that sets Crimson Trace apart from the rest)
Over 4 hours of battery life powered by one 1/3N Battery (included)
Installation is very user-friendly- no gunsmithing skills required
Factory sighted at 50 feet
Fully user adjustable for Windage and Elevation
Also available in green laser version - higher visibility at higher price
Pros
Brightest beam allowed by law
Super convenient activation
Long runtime
Comes in both red and green laser versions
Cons
Quite expensive
Green laser version is even more budget heavy
Prices accurate at time of writing
How to mount a Glock 43 light or laser?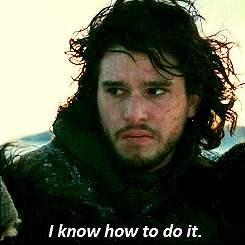 As the pistol doesn't come with an accessory rail, a list of top Glock 43 lights or lasers come across as a bit of a surprise, right? However, even though the pistol doesn't come with a rail, there are still ways how to mount these Glock 43 aftermarket upgrades onto its frame. All of the lights and lasers on our list feature a well-thought-out design, allowing for a super quick and convenient attachment (just follow the instructions inside the packaging).
And as a picture is worth a thousand words, I'm attaching this handy YouTube video by Highjac86, who'll show you how to quickly attach Streamlight TLR-6 onto your Glock 43.
Conclusion - what's the best Glock 43 light/laser?
Now even though our list of best Glock 43 lights and lasers isn't that long, there's still a lot to pick from ... and selecting which of the 3 lights or lasers mentioned above to go for can actually prove to be a tough decision to make. And if you want to save a bit of time (and you also want to save a couple of bucks), I'd advise you to go for #1 on the list - Streamlight TLR-6. Even though this Glock light only offers power output of 100 lumens, it comes with an integrated red laser sight and it's certainly worth its price tag.
And even if you end up not getting any of the Glock 43 lights and lasers mentioned above, nevermind. The pistol is still one of your best carry options even without any G43 attachment. After all, there's only one thing that matters if you want to make sure that your Glock will be reliable in any situation you might find yourself in, you need to get yourself a well made Glock 43 holster.
Do you fancy some more light reading? Then carry on with these articles: