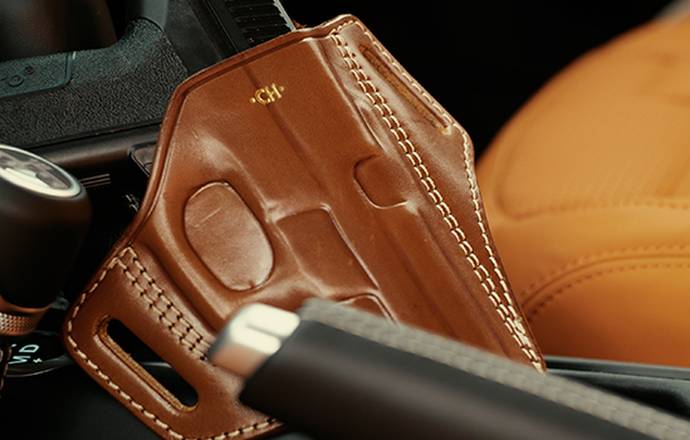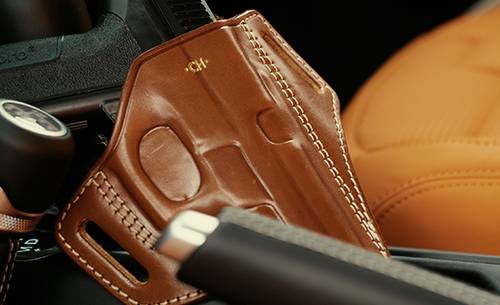 source: BERETTA9mmUSA
Discover the ins and outs of the highly sought-after firearm in our comprehensive Sig P365 Review! Unveil the features, performance, and specifications that set the Sig P365 apart in the crowded world of handguns. Navigate the world of concealed carry with confidence as we dissect the pros and cons of this exceptional pistol, ensuring you make an informed decision tailored to your needs. Stay on target with us as we explore the Sig P365 and uncover if it's the perfect match for your shooting and self-defense requirements. With the ever more restrictive and uncompromising gun laws, an easy to conceal carry gun is probably what you are looking for, right? However, handguns that boast such a feature often come at the cost of capacity, precision and firepower. That's why SIG Sauer Inc. set out on a journey to deliver a pistol that would satisfy everyone's concealed carry needs. And the fruit of their diligent work was borne In 2018, when they introduced what many believe to be the ultimate carry gun - the SIG Sauer P365. But is it really the best concealed carry pistol? Let's have a quick go at it in this SIG Sauer P365 review.
first impressions
Was I impressed when I first got my hands on the P365?
Definitely!
My previous carry gun was the GLOCK 43 and although I loved its compactness, I always strived for higher capacity, which wasn't really possible among sub-compact pistols. Until the SIG came along! A micro-compact pistol that comes with 10 rounds of spare ammo? That's something previously unheard of. And that's just one of the reasons the SIG became my new carry gun.
The P365, which got its name because it's said to be the ideal concealed carry gun all year round, met with quite a controversial reception. There were those who loved the gun, but also those who complained about it a lot. The night sights were failing to glow and the firing pin caused problems as well. SIG Sauer, however, responded to the negative feedback the best way possible - they released the second generation of the P365, offered fixes to those who bought the gun at launch, and shut all the haters up. And no SIGnificant issues have been reported ever since.
SIG P365 BARREL LENGTH & OTHER SPECS AND FEATURES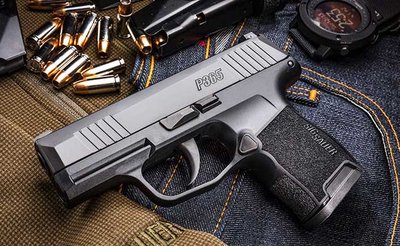 Source: Guns and Ammo
The SIG P365 is a striker fired, single-action, semi automatic pistol. Not enough categories? Well then you should know the SIG also belongs to the group of micro compact and high-capacity guns. And the last two are what makes the SIG a real deal.
Very compact, very light
The SIG P365 comes with a 3.1'' long barrel and when it comes to the overall specs, the pistol is 5.8'' long, 4.3'' high and mere 1'' wide. Now considering the SIG only weighs 17.8oz, it really is one of the most compact and lightweight carry guns currently available on the market. If paired with a well-fitting SIG P365 holster, it quickly becomes the favorite for your new everyday concealed carry.
Incomparable capacity
What sets the pistol apart from other popular micro and sub compact handguns is the pistol's high-capacity magazine. If you decide to get an easy to conceal pistol or revolver, it often comes at the cost of the number of rounds it offers. At launch, the SIG came with a 10 round flush magazine and an optional 12 round magazine with a pinky extension (ideal for guys with bigger hands). And quite recently an incredible 15 round extended magazine came along as well.
And how did SIG Sauer manage to cram so much ammo into such a small pistol? A double stack magazine! A truly ingenious move by SIG Sauer! And although it's a double stack, the gun isn't any thicker and heavier compared to the main competitors.
The only problem with the SIG's magazine is its price (roughly $50) and it could also use an improved finish.
Caliber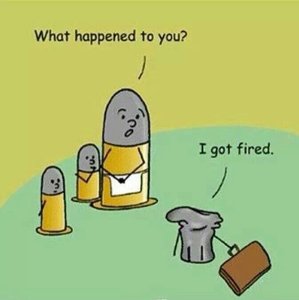 The pistol is chambered in a relatively powerful 9mm Luger caliber. Alright, it's no .45 ACP, but when it comes to self-defense and a bit of fun at range, this cartridge is a very decent and affordable solution. The 9x19mm cartridge is also very popular among law enforcement agencies all around the world, which makes the SIG P365 an ideal pistol for both civilian and on-duty carry.
Sig Sauer P365 Firing mechanism
Just like most modern polymer-framed sub compact pistols, the SIG also is a striker-fired gun. Now what does that exactly mean? Simply put, a striker-fired pistol engages a round via a striker hitting the firing pin. The firing mechanism is built into the pistol and fully covered by the pistol's slide.
I'm sure many of you consider striker fired pistols inferior to the hammer-fired ones (1911 being the most popular representative), but these pistols come with a number of advantages. They consist of fewer parts (thus reducing the chances of the pistol's malfunction) and they come with a number of internal safeties. This is also the case of our SIG, which makes it a very safe and reliable carry option.
There's one potential issue that comes with this firing system - striker drag. Quite many SIG 365 owners complained about striker drag shortly after the pistol's launch. Luckily, SIG Sauer heard their customer out and fixed this issue with the launch of the second generation of the P365.
Range performance
The SIG P365 delivers a great shooting experience, which isn't always the case with pistols this small. Shooters of sub and micro compact guns frequently have to put up with quite a lot of hand slapping recoil. Thanks to the grip the SIG comes with, you won't have this issue. You won't feel like you're holding a board in your hands, which is the case with some Walthers or Glocks.
Ever since I got my SIG, I've been visiting the local shooting range a lot. And it hasn't let me down yet, not even after thousands of rounds. I love how the grip fits my hands (I'm using SIG magazines with the pinky extension) and double-tapping poses no problem whatsoever. There's also a higher undercut on the trigger guards allowing for a full grip, which is essential for a great gun stability during dynamic shooting in the range or a bit of plinking in the backyard.
Accuracy
The pistol is also highly accurate, mainly thanks to the SIG Sauer XRay3 Night Sights. The front sight boasts high day and night visibility. It's pretty much a high visibility green ring around a tritium vial. The rear sight consists of two tritium vials and it is serrated in order to reduce glare, which is an ideal solution for brighter environments. It's true that there were some issues with the sights shortly after the pistol's initial release. However, SIG Sauer were quick to fix these problems and the P365 can now compete even with full-sized handguns when it comes to accuracy and target acquisition. And if you want to take the accuracy of your SIG even further, read our blog on the top lights and lasers for the SIG P365.
Ergonomics
It's safe to say that the SIG's ergonomics is second to none. Small pistols usually don't feel that comfortable in the hand, but this SIG model is an exception. The extended 12 rounds magazine with a pinky grip extension is a real deal breaker as it for easy operation even by guys with bigger hands. The higher trigger guard undercut allows for a full grip and much better gun control while putting in consecutive rounds.
Another big pro of this pistol is its trigger. It's very crisp and it gives a very clean break, and it features a tremendous audible and tactile reset. For a stock trigger, it's very impressive.
Except for the slide (made of stainless steel), the entire pistol is made of polymer, which makes it very light. You'll instantly fall in love with how the gun feels in your hands, which is why you'll enjoy drawing, shooting, and reholstering your SIG more than most other carry guns.
The main specs of the SIG Sauer P365
The SIG P365 also comes in the SAS version (SIG anti-snag), which is pretty much the same gun, only with a flat slide with the sights sitting inside the slide. Interested in such a design? Then click on this link and watch Frank's SIG Sauer P365 SAS Review on YouTube.
SIG P365 FAQ
Dry firing your P365 occasionally is generally considered safe, but excessive dry firing could potentially cause damage to the firing pin. It's recommended to use snap caps to absorb the impact of the firing pin for extensive dry fire practice.
Yes, the SIG Sauer P365 is a popular choice for everyday carry (EDC). It's compact, lightweight, and designed for concealed carry, offering good capacity and reliability for its size.
The standard P365 model does not have a manual safety, but SIG Sauer offers a P365 model with a manual safety option. Always handle all firearms as if they are loaded and follow proper safety protocols.
The SIG Sauer P365 is known for its durability. While exact round count varies, it is built to handle thousands of rounds. Regular maintenance and inspection are crucial to ensure its longevity and performance.
Many find the P365 easy to shoot due to its ergonomic design and smooth trigger. However, it's always a good idea to test-fire a handgun before purchasing to ensure it suits your hand size, grip strength, and comfort preferences.
DOES IT OUTPERFORM THE COMPETITION?
Our SIG finds the toughest competition in a number of sub compact pistols, the most notable being the GLOCK 43, GLOCK 26, S&W M&P Shield M2.0, Springfield Hellcat, Springfield XDs, and Walther PPS M2. And although all of these are very similar in size, none of them (with the exception of the Hellcat) offer such high capacity and stellar range performance. That's the reason why P365 might well be the best carry gun currently available (and I believe it is, but that could be just my opinion).
HOW TO CONCEAL CARRY IT?
Thanks to its compact size, the P365 is super easy to conceal, no matter which carry style you prefer. However, probably the best concealed carry option are the IWB Holsters For Sig Sauer P365, which allow for a very easy access, but also keep your SIG safe and secure. Another good quick access choice are the P365 appendix holsters. These are your best choices for conceal carrying the P365, especially in warmer months.
If we were talking about a full size gun, I wouldn't recommend outside the waistband holsters. But as our SIG is very tiny, OWB strong side holsters are also a good option. And if you spend hours on end driving or have a desk job, then I'd suggest conceal carrying the SIG in a cross-draw holster. Just make sure you put on a couple of extra layers.
I probably wouldn't select shoulder holsters as I don't think they're a good fit for as small guns as the SIG is. You can still give the P365 shoulder holsters a try, especially in winter when it's easy to conceal your rig, but I'd stick to the inside the waistband carry.
As a bonus option, I'd say ankle holsters are a great match for the P365, especially if you want to use it as a backup gun.
No matter which carry style you decide to go with, just make sure your SIG Sauer P365 holster is a well-fitting one, made of high-quality materials. If you want a piece of advise on which holster to pair up your SIG with, read our article on the best available holsters for the SIG P365.
CONCLUSION - IS P365 THE IDEAL CONCEALED CARRY GUN?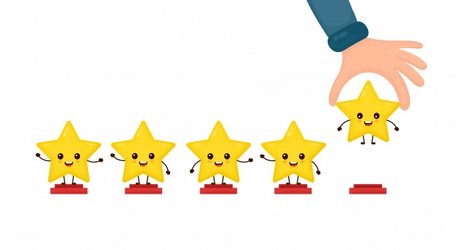 Yes. It's compact, light, and very easy to conceal. On top of that, it delivers incredible capacity and accuracy and feels great in one's hands. But is it the best concealed carry pistol out there? That's hard to say as it's the matter of preference.
Do you fancy some more light reading? Then carry on with these articles