Shoulder Holsters
Shoulder holsters (sometimes referred to as underarm holsters) represent probably the most traditional carry method and if you're a fan of westerns or action-packed or detective movies from the 80s, you've definitely seen them in action. In the past, it was mainly law enforcement officers that carried in leather shoulder holsters as they offered great carry comfort, easy access and immense stability. Nowadays, law enforcement agencies don't really use shoulder holsters much, but they are still quite popular among civilians. Even though there are more popular carry styles available, shoulder holsters offer something other holsters can only dream of - they look super classy (especially those made of leather).
While the style shoulder holsters offer is a huge plus, their concealment could become a bit of a problem. In order to conceal your handgun in a shoulder holster, you'll definitely need more than just a T-shirt. This doesn't mean that shoulder holsters for concealed carry don't exist. Actually, they might be your best option for how to carry concealed during colder months, when you'd be wearing a layer of covering garment anyway. In case you need some tips on how to conceal a shoulder holster, take a look at our quick shoulder holster guide, that will teach you everything you need to know about shoulder rigs (how to choose the right shoulder holster, how to put on a shoulder rig, as well as how to go about concealing your gun in a shoulder holster).
There are two main types of shoulder holsters - horizontal and vertical. Vertical shoulder holsters allow you to carry your gun in a vertical orientation, which comes with a handful of benefits. Most importantly, if you decide to carry in a vertical shoulder rig, you won't be muzzling anyone standing behind you when your gun is holstered (or being drawn). At the same time, when your gun is holstered in a vertical position, it contours your body well, which allows for easier concealment than if you carried it horizontally. Thanks to this feature, vertical leather shoulder holsters are an excellent choice mainly for bigger handguns. That's why you can spot many 1911 shoulder holsters out there, but also revolver shoulder holsters for some of the most popular wheel guns such as Ruger Super Redhawk or Taurus Judge, which are popular mainly among hunters, hikers, and explorers.
Horizontal shoulder holsters are more ideal for mid-size and sub-compact semi-autos and revolvers. The reason for this is quite simple; if you carry a big handgun in horizontal position and your torso isn't thick enough, a part of the holster might end up sticking out, which makes concealment a bit tricky. On the other hand, shoulder holsters for horizontal carry come with a set of advantages. Most importantly, it's much easier and more convenient to draw your handgun from a horizontal shoulder rig rather than a vertical one as you don't have to raise your shooting arm that much upon draw (this feature can be a deal breaker for those suffering from shoulder pain). Shoulder rigs with horizontal orientation are also ideal for anyone who spends a lot of time in a sedentary position, such as office workers or truck and car drivers. In case you'd like to read more about pros and cons of shoulder holsters (both vertical and horizontal), check out this shoulder holster guide.
If you can't decide between vertical and horizontal shoulder holsters, there's no reason to despair. Quite recently, a number of holster makers introduced a blend of the two styles. A great example of a holster that lets you carry your handgun vertically, but allows for the more convenient horizontal draw is this vertical roto shoulder holster, which shouldn't be missing in the arsenal of any true leather shoulder holster fan.
Probably the most obvious reason why to get a shoulder holster is that they frequently come with a counterbalance magazine or speedloader pouch that's attached to the shoulder holster harness and carried under the armpit of your non-shooting hand. This is the reason why shoulder holsters are often sought after by those who like to carry a couple of spare rounds on them. At the same time, such construction results in increased balance of the entire shoulder holsters system. Moreover, many shoulder holsters come with a belt tie-down strap and there's usually one of these attached to both the holster and pouch. Construction-wise, shoulder holsters are most frequently made of leather or nylon. While leather shoulder holsters are extremely stylish, nylon shoulder holsters are a bit less rigid and more versatile as they usually can be used for a number of similarly sized handguns.
Quite recently, shoulder holsters have been gaining in popularity mainly among those who like to equip their pistols with various tactical attachments such as tactical lights and lasers or red dot sights. In case you're a fan of shoulder rigs and tactical gadgets, you should start thinking about getting yourself a custom made
red dot shoulder holster
or a
light-bearing shoulder holster
.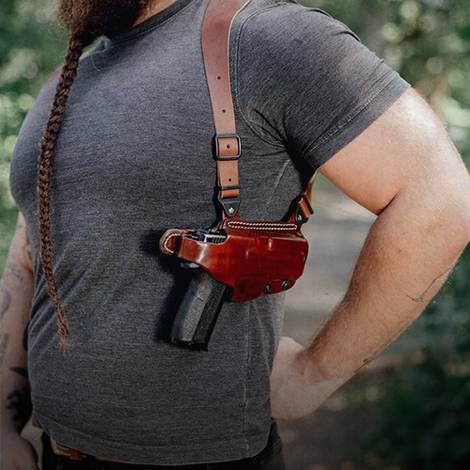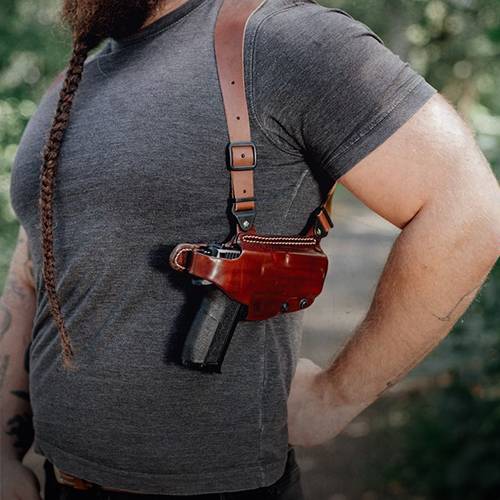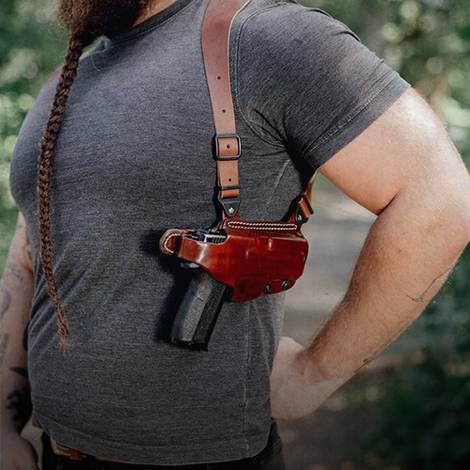 Strong and Beautiful, Just Like Holster.
HOLSTERS BY GUN MODEL
Create your unique custom holster design in our
CUSTOM SHOP
Become a part of the design of your own custom made holster from scratch with the help of our master craftsman.
More information