Let's Get Tactical - Holsters for Tactical Situations
Let's Get Tactical - Holsters for Tactical Situations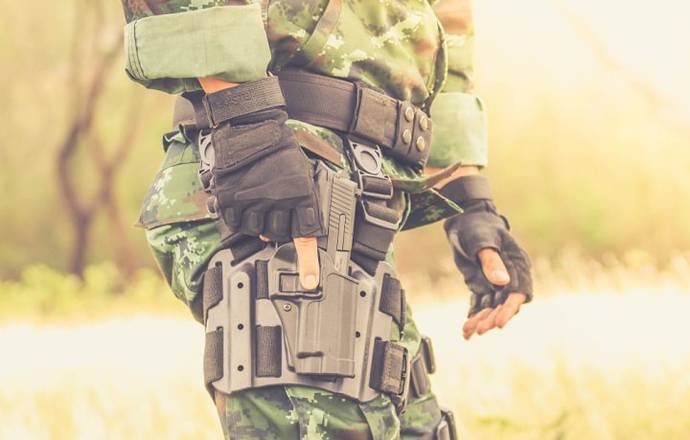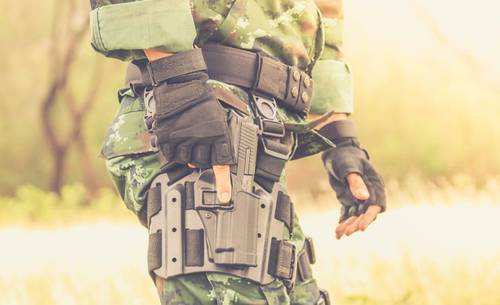 image source: holsteraddict.com
Do you ever find yourself in a sticky tactical situation? Have you just got a laser or night sight, but you can't find the right holster for it? Do you want to carry your gun in a professional way? Or do you just want to try out something new? If you've answered "yes" to any of these questions, you're in the right place. I'm going to take you through a couple of great holsters that even soldiers or law enforcement officers would grab instantly. But you don't have to be a professional, don't worry. These holsters will make you look like one! So, let's get tactical.
DROP LEG HOLSTERS
Now this first carry style will make you look like a real pro. Drop leg holsters are ideal for military members and you can't get more tactical than this. They're sometimes called thigh holsters, so it's obvious where you'll carry them. You'll find drawing and re-holstering extremely easy, as these holsters are easily accessed and very practical to use. Carrying is also quite comfortable and the retention devices they're equipped with will make your gun virtually unsnatchable. So, check out our selection of drop leg holsters.
DUTY HOLSTERS
Wanna look like a pro? Then get a duty holster. These pieces are carried mainly by Law Enforcement, security professionals, but also military officers. Designed for open carry, these holsters seem difficult to conceal, but there are some tricks to this. If you're worried about your gun, then you need a duty holster. They provide much more tension and your gun will be pretty much unsnatchable.
TACTICAL GUN BELTS
There's one more thing you can't forget about if you decide to get one of our duty holsters. A rock solid (duty) belt! I put the word "duty" in brackets intentionally, as pretty much any of our belts will serve you well with the holsters above. Our belts will provide you with extra safety and you can be sure your holster will stay in the position you desire. Moreover, they come in different sizes, but the most ideal for tactical use are the 1.5'', and 2'' ones. As far as material is concerned, nylon and polymer prevail, but there's also some room for a solid leather duty belt.




EXTRA MAG POUCHES
So, you've got your holster, you've got your belt. But tactical situations require you to be well-prepared. You know that some tactical situations can drag on and on and on, which means you'll need extra magazines. And extra magazines won't carry themselves. But again no need to search for them on the internet if you can get these custom made kydex and nylon mag pouches in our store. These are my personal favorites.
.
LIGHT/LASER BEARING HOLSTERS
We can't forget about lights and lasers. I love them and I'm sure you do too. These handy little attachments can be used in almost any situation. They'll help you acquire targets faster, easier and more confidently. Your awareness in low light situations will increase significantly if you get a light or laser for your gun too. Finding a good holster, however, can be a problem. And finding a perfect fit? That can be hell. Luckily, our light/laser bearing custom holsters are here to save you the trouble. I'll show you one made of kydex and one from nylon, the most frequently used material for tactical holsters.
BTW: If you're just thinking about getting a light or laser for your pistol, then have a quick look at our guides for the best lasers and rail-mounted lights currently available. I'm sure you'll find making the right decision much easier.
MOLLE HOLSTERS
Molle holsters (Modular Lightweight Load-carrying Equipment) are a less popular carry option, but the utility they offer is immense. They're extremely practical and, in my opinion, they're also quite stylish. Used mainly in military, they can be carried attached to various molle equipment. When worn like this, you'll have extra room around your belt area that you can use either for another holster and gun or for as many mag pouches as you want.
BE AS TACTICAL AS IT GETS
So, I promised you to find answers for all of your tactical questions here. You don't need to get all of the products above, but the more you will equip yourself with, the more tactical you'll get. There are, of course, plenty other gun accessories on the market, each moving the tacticality one bit further. Red dot sights, night sights, EDC knives, custom pistol grips, you name it. If you want to find out more about them, you can just read through our Guides section and get yourself the best tactical equipment out there. So, if you've got time for some more reading, just open this link. Happy reading!