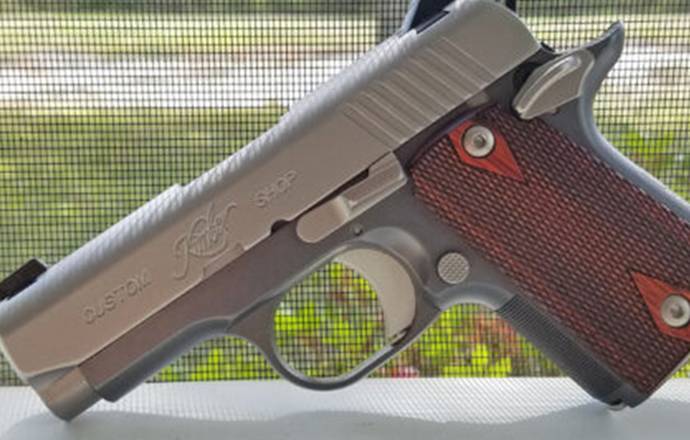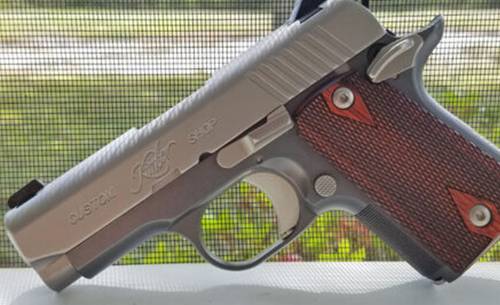 Source: www.concealednation.com

In the world of compact handguns, the Kimber Micro 9 is a standout contender that many are talking about. Our comprehensive Kimber Micro 9 Review provides an in-depth look at all aspects of this compact yet powerful firearm. We dissect its performance, construction, and reliability to give you a thorough understanding. The Micro 9 Review Kimber highlights practical insights and unbiased feedback to assist in making an informed decision. Explore with us the features and specifications that define the Kimber Micro 9, ensuring you have all the pertinent information at your fingertips. Stay informed and make the right choice with our detailed examination.

Kimber has maintained its reputation for quality and precision since it was established in 1979. It continues its tradition with the Kimber Micro-9, which gives the impression of a perfectly finished and ready for the range kind of pistol. The Kimber Micro 9 is a sub-compact, single-stack and semi-auto pistol providing a slim, lightweight concealed carry. This gun is chambered in a battle-proven cartridge - the 9mm Luger. The Micro 9 utilizes a single action, match-grade trigger for enhanced accuracy potential, and an intuitive 1911-style thumb safety. The slide release and magazine release also operate the same as a 1911. The slide is machined from stainless steel, and the frame is made of lightweight corrosion resistant aluminum. The Kimber Micro 9 is equipped with low profile 3-dot sights, to assure a better accuracy while shooting.
Based on this brief description, the Micro 9 looks like a great gun. But today's question is a bit different. Is the Kimber Micro 9 the best micro compact pistol ever produced? And to answer this question, we'll have to look at everything this pistol has got to offer.
Kimber Micro 9 Review - Firs Impressions
The first impressions of the Micro 9 are spectacular. It is a highly functional concealed carry pistol, capable of delivering well placed shots quickly with adequate power for nearly any self-defense situation. The only thing I miss within the Kimber Micro 9 is probably a bigger capacity. But with extended magazines you get serious bang for your buck with this pistol.
Main Features and Specs
The Kimber Micro 9 is a 9mm variant of its pocket-size .380 caliber pistol especially designed for concealed carry. It features a mild recoil and small grip profile. Its single-action trigger, thumb safety, slide release and magazine release are styled like a standard 1911. The Micro 9 also includes a lowered and flared ejection port, beveled magazine well and steel 3-dot sights. The extended 7 round magazine is standard on some models and optional on others. ​​And because shooters like options, the Micro 9 is available in more than a dozen versions that differ in metal finishes, grip styles, sights and other details.
Kimber Micro 9 size
The Kimber Micro 9 definitely comes with dimensions that are ideal for concealed carry. Overall the pistol is 6.1" long, 4.07" high and 1.06" wide and it comes with a 3.15'' long barrel. Considering the Micro 9 only weighs 15.6 oz, it really belongs to the most compact and lightweight carry guns currently available on the market. If paired with  Holsters for Kimber Micro 9, it represents a great choice for your new everyday concealed carry.
Micro 9 magazine Capacity
Continuin with our Kimber Micro 9 review  the Kimber Micro 9 comes with a flush-fit stainless steel 6 round magazine that might render the handgun even less grip-friendly for people with larger hands. But Kimber also offers a 7 round extended magazine which is recommended if you have moderate to larger hands. The 7 round magazine has a black extension that allows you to keep three fingers around the grip rather than two on the grip and the little finger below the butt. When the slide is locked back, an empty magazine must be released before the slide release lever can be moved downward to release the slide. If a loaded magazine is in place, the slide will go forward normally, moving a cartridge from the magazine into the chamber.
Kimber produces four different magazines for the Micro 9 – a 6-shot, 7-shot, 8-shot and a 7-shot for an average price of about $36 each, but depending on the concrete model of the Micro 9. The Micro 9 is currently available in three models: Micro 9 Stainless, Micro 9 Two-Tone and Micro 9 Crimson Carry. The magazines are made of stainless steel making them very durable.
Kimber Micro 9 Caliber
The Kimber Micro 9 relies on the use of the 9 mm Luger alias 9 mm Parabellum, which was first adopted by German Navy and Army, but ever since it was created, it quickly became one of the most popular cartridges in the world. These days it is a well known cartridge used by many folks. When talking about its performance, the 9 mm cartridge has somewhat more power than the .38 Special but falls well short of the .357 Magnum.
Kimber Micro 9 Mechanism
The Micro 9 is a recoil operated semi-automatic pistol. The trigger is a single action with a swift, short, and smooth pull that equates to a confident and accurate shot. The ejection port is flared and flawlessly ejects from the fast-loading beveled magazine that can load up to 7 rounds with an extended magazine. Every edge on the slide and receiver is curved, making it easy to carry the gun in pockets for long periods.
The Kimber Micro 9 features a locking mechanism that involves a large step on the rear of the barrel that mates with the cutout in the slide. Upon firing, the barrel and slide travel rearward for a short distance after which the toggle link pulls the barrel downward. That action moves the locking ridges on the barrel from the recesses in the slide after which the slide continues to the rear to complete the ejection and loading cycle. Unlike most other pistols of the 1911 pattern, there is no grip safety and the safety does not lock the slide.
The Kimber Micro 9 is ideal for people with smaller hands due to its tiny size. People with larger hands may require adjusting their grips to avoid a mishap due to improper adjustment with the grip size. With this gun, an improper grip could cause problems with the thumb safety mechanism.
Micro 9 range experience
A Kimber Micro 9 review without a range experience would be useless so here's one - the Kimber Micro 9 not just looks good, but it brings great shooting experience at the range as well. The pistol feels very comfortable to fire and the accuracy seems to be really good. The recoil is managed well due mainly to the secure grip and comfortable angle. The Micro 9 cycles well and ejects without any problems or jams. When shooting, this pistol powers through every single round without any hesitation or misfeeds.
The issue can occur when attempting to do a quick magazine change. When shooting the gun several times to slide lock and trying to drop the magazine and reload with a second magazine. On most attempts, it can be difficult to get the magazine to drop free without catching on your hand. And you can also have trouble getting the magazine into the magazine well smoothly. This issue should be something that would work itself out with some range time and training.
Accuracy
Accuracy of the Kimber Micro 9 is something that comes into question for many folks. Yes, with its only 3.15" long barrel it is definitely a pistol ideal for easy and concealed carry, but one may ask how much of the performance of the 9mm Luger cartridge is lost with such a short barrel.
The Kimber Micro 9 may be small, but it's potent, as even when using the velocity measured at 10 feet from the muzzle, it generates 290 fpe with a 115-grain bullet. When used with some of the defensive loads, muzzle energy would be around 300 fpe and that with bullets broings an excellent performance. The accuracy is even higher with using the sights included on the gun.
Ergonomics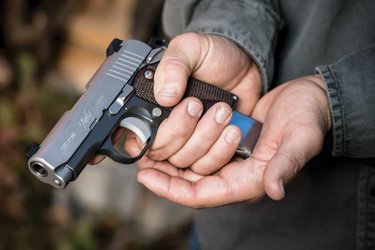 Source: www.gundigest.com
The design of the Kimber Micro 9 is making it very easy to use and more important to hide, which is ideal for everyday concealed carry. The Kimber Micro 9 barrel and slide is machined from stainless steel for resistance to moisture, while the frame is shaped from the aluminum for integrity and strength. The rosewood grip panels are meticulously laser- etched and comfortable to hold in the hand.
One of the most important Kimber Micro design advantages is its single action trigger with a short, smooth pull that ensures accuracy and confidence. The thumb safety, slide release and magazine release are pure 1911 in design. Other standard features include a lowered and flared ejection port for flawless ejection and a beveled magazine well for fast, positive loading. Sights are steel and mounted in machined dovetails for additional durability.
Main specs of Kimber Micro 9
So, now that you know what makes the Kimber Micro 9 an excellent micro compact carry choice, let's wrap this part up with the summary of the pistol's basic specs. And, right after that, we'll have a look at Micro 9's main competitors as well as on the best ways how to conceal carry this tiny CCW miracle.
| | |
| --- | --- |
| Caliber | 9mm Luger |
| Capacity | 6+1 (flush), 7+1 (extended) |
| Barrel length | 3.15 inch |
| Overall Length | 6.1 inch |
| Width | 1.06 inch |
| Height | 4.07 inch |
| Weigth | 15.6 oz (unloaded) |
| MSRP | ca. $600 (basic version) |
Main competition of Kimber Micro 9
As the gun market is full of compact pistols or pistols designed for concealed carry, it is no surprise that even the Kimber Micro 9 has its competitors. The most known direct competitors of Micro 9 are for example SIG P365, Springfield Hellcat, S&W M&P9 Shield, Sig Sauer P938 or Glock 43X. Surely you'll find many others from the category of compact sized pistols, but the most significant is probably the Sig Sauer P320 Compact.
The Kimber Micro 9 and the Sig P320 Compact are both 9mm pistols with barrels that measure 3.15" and 3.9". The main difference between these two pistols are the mag capacity and firing mechanism. While Kimber Micro 9 comes with a lower capacity single stack magazine that can hold up to 6+1 ammo, the Sig P320 Compact comes with double stack mag holding up to 15 rounds.
The Micro 9 is a recoil-operated pistol and Sig P320 Compact is striker-fired. Although both of these guns were designed as compact guns that can be used for concealed carry, the Kimber Micro 9 is definitely more suitable for EDC, as it is smaller, less heavy and overally easier to hide than the Sig P320 Compact. These are just a couple of differences between these 2 CCW guns and if you want to find out more, feel free to check out our head-to-head comparison, available here.
HOW TO CONCEAL CARRY Kimber micro 9?
As mentioned before, the Kimber Micro 9 was designed for concealed carry and it shows within its design and dimensions. For everyday concealed carry, the best way to carry this pistol is in a Kimber Micro 9 IWB holster.
Due to its compact dimensions, the Kimber Micro 9 can be easily hidden and comfortable wear also outside the waistband. When carried this way, you should pair it with a well-fitting Micro 9 OWB holster that will keep it secure. Many folks also use the Kimber Micro 9 as a backup gun and for this purpose the best way to carry it is to put it into a Kimber Micro 9 ankle holster.
Well there are many choices on how to carry your pistol and if you want to spend less time finding the right Micro 9 holster, feel free to check out our recent article on what the best Kimber Micro 9 holsters are.
Kimber Micro 9 FAQ
Generally, it is best to avoid dry firing any handgun, including the Kimber Micro 9, to prevent potential damage to the firing pin. It's advised to use snap caps – fake cartridges used for training – to protect the gun's components during dry fire practice.
Yes, the Kimber Micro 9 is often commended for its compact size and lightweight design, making it a suitable choice for concealed carry. Ensure it fits your personal needs and preferences, and always prioritize safety and comfort.
Kimber states that their Micro 9 model is designed with safety in mind, including a drop safety feature. However, as with any firearm, it should be handled with utmost care to prevent accidental discharge.
While the Kimber Micro 9 is compact, whether it's a "pocket gun" depends on your attire. It's vital to use a quality holster even if you plan to carry it in your pocket, to ensure safety and ease of access.
The Kimber Micro 9 performs well with most quality ammunition, but it's generally recommended to use premium defense ammunition for self-defense purposes. For range use, standard full metal jacket (FMJ) rounds are typically adequate.
CONCLUSION - IS KIMBER MICRO 9 the best micro compact carry gun?
Let's bring this Kimber Micro 9 review to an end and let's evaluate. While it's hard to say if it's the best CCW gun of micro compact size (remember, the competition is extremely fierce!), it's safe to say it's one of the best guns available.
Overall the Kimber Micro 9 is a well built and high-performance handgun that is small enough to carry comfortably, but not so small it is difficult to shoot. The recoil is pretty much standard and users have generally presented favorable reviews regarding ease of use, ability to conceal easily and incredibly smooth flow of the trigger. Kimber Micro 9 is designed to be a defensive handgun, configured for concealed carry, or police backup roles.
I think the Micro 9 would be an excellent choice for most as an everyday concealed carry gun, especially when paired with Holsters for Kimber Micro 9.
DON'T LEAVE YET - YOU MAY FIND THESE ARTICLES READWORTHY
6 BEST TAURUS G2C LIGHTS AND LASERS [TO GET IN 2021]
TOP 6 TAURUS G2C HOLSTERS TO BUY IN 2021