In the world of concealed carry, finding the perfect firearm can feel like searching for a needle in a haystack. That's where the Glock 43X steps in, and in this comprehensive review, we're going to dive deep into what makes this 9mm wonder stand out. Whether you're an experienced shooter or a newbie in the concealed carry game, the Glock 43X has garnered attention as the ideal carry gun. With keywords like "Glock 43X review" and "Glock 43X 9mm review" on our radar, let's explore the ins and outs of this Gen 5 pistol to help you make an informed decision on your next concealed carry companion.
At first glance, the Glock 43X exudes a sense of reliability and simplicity, hallmarks of the Glock brand. But as we peel back the layers in this 43X Glock review, you'll discover that it offers much more than meets the eye. From its sleek design to its comfortable grip, this 9mm handgun is engineered for ease of carry without compromising firepower. Whether you're a seasoned enthusiast or a newcomer to the concealed carry world, we'll walk you through the features, performance, and real-world applications of the Glock 43X, shedding light on why it has become a go-to choice for those seeking a versatile and trustworthy self-defense option. So, let's embark on this journey together and explore why the Glock 43X might just be your ideal carry gun.
Glock 43X Review - First Impressions
For last couple of years I have been using the standard Glock 43 as my main carry gun. Why? I loved its compactness and the general feel of the firearm. For all these years, it hasn't let me down a single time. However, I felt like the pistol was lacking something. And when SIG Sauer introduced its 2018 flagship that I wrote about here - Sig P365 Review: Compact Power for Concealed Carry - I quickly realised what the problem was. The pistol's factory capacity.
Now do not get me wrong, 6+1 rounds is more than enough to keep you safe when tending to your daily whereabouts, but having a couple more extra bullets is never bad. Being a huge fan of Glock, I didn't want to switch my G43 for the new SIG. And when I heard the Austrian manufacturer was planning to release a new version of their most popular micro-compact, I couldn't be any happier and I just had to do a 43x glock review.
The Glock 43x comes with incredible 10+1 flush magazine, a capacity that can be hardly found in the pistol's main competitors. And I'd say this is also the biggest improvement over the standard 43 model. Sure thing, the higher capacity comes at the cost of slightly thicker and longer grip, but since I'm a big guy and have larger hands, it doesn't really bother me much. Even though the G43X is a bit bigger than some other popular carry guns, it still conceals well and stands true to its sub-compact characteristics. Overall I could not be more satisfied with what I got for my money.
The main specs and features of Glock 43X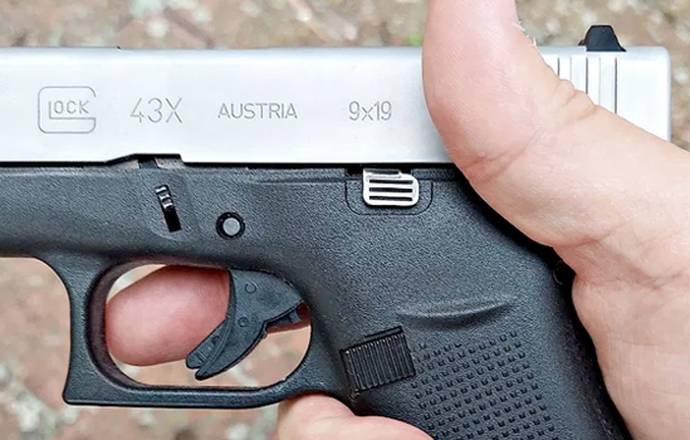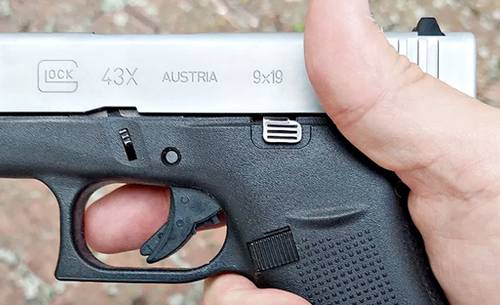 Source: BCH Tactical
The Glock 43x is a striker-fired, recoil-operated, semi automatic pistol with polymer frame and signature silver finished steel slide. As mentioned in the glock 43x review, the main selling point of the 43X model is its higher than usual magazine capacity. On top of that, the 43x features front slide serrations, which is a great addition to the rear serrations featured on the standard Glock 43. The slide serrations are meant to help with chambering and ensure better and fuller grip. All of these improvements over the basic model are more than welcome and I'm positive they'll improve the overall shooting experience.
Glock 43X Review - Compactness is the key
The Glock 43X is a sub-compact pistol, which means it's quite tiny. With the barrel length of only 3.41", you can't really expect the accuracy and firepower of an M1911, but what you can expect very convenient carrying. The pistol's overall length is mere 6.5 inch, its height is 5.04'' and it's 1.1 inch wide. The G43X is also quite light, weighing mere 18.7 oz. when unloaded.
The pistol's compact size is a huge benefit, but it wouldn't be of much use if you didn't have a decent holster to carry the pistol in, right? If you want a holster that will let you maximazine the concealed carry potential of the Glock 43X, then don't forget to have a look at the "How to carry Glock 43X" section, I promise it's worth your time.
Glock 43X - Infinite magazine capacity
As I've mentioned before, the Glock 43x offers undoubtedly one of the highest mag capacities among micro and sub-compact pistols. The pistol's flush magazine comes with 10+1 rounds of the 9x19mm Parabellum catridge, all packed in a single-stack magazine. The only pistol that can beat that is the Springfield Hellcat.
But if you're familiar with the Austrian producer, you know you can always expect Glock to take it one step further. And that's the reason why Glock introduced a vast array of Glock 43X magazine extentions. So, if 10+1 rounds is not enough for you, then feel free to get a Glock 43x extended magazine. There are even 19+1 round magazines available, which is a whopping capacity for a pistol designed for CCW carry, isn't it?
Glock 43X vs Glock 43




Source: Handgun Hero
The Glock 43X could be easily called Glock 43's bigger brother as the main difference between the two is of course their size. The 43X is a tad bit larger than the original model. This makes the 43 more ideal for concealed carry purposes, but the G43X offers significantly higher capacity. Otherwise the two models are more or less identical (with the exception of the silver finished slide). So, if you intend to carry your pistol concealed and the small size difference doesn't bother you much, you can't go wrong with the Glock 43X. The extra capacity is really worth it. A comprehensive Glock 43 vs 43X - Concealed Carry Showdown article can be found and read.
Glock 43X Specs
So, now that you know what the main reasons to make the Glock 43X your primary carry gun are, let's have a look at a summary of the pistol's main specs.
Glock 43X competition
I'd gladly call the Glock 43X the ultimate carry gun, but the problem is that there's a number of other handguns that might deserve this title. And I need to mention competition in a comprehensive glock 43x gen 5 review. The main competitors of the G43x are pistols such as the SIG P365, S&W M&P Shield and Springfield Armory Hellcat. All of these belong to the micro and sub-compact branch of pistols and are as good as (and in some aspects even better than) the Glock 43x.
But there are things the Glock 43X just does better. For example, although a bit smaller, the S&W M&P Shield doesn't offer nearly as much capacity as the Glock. All in all, if you make any of these pistols your new primary carry gun, you will make the right decision. Just keep in mind that Glock promises precision.
Glock 43x FAQ
The Glock 43X is known for its reliability. However, like any firearm, it's essential to use quality ammunition and maintain it properly. Some users may find the grip a bit long, but that's subjective. Overall, it's a solid choice with minimal issues.
The Glock 43X shines in its slim design, making it perfect for concealed carry. It combines a comfortable grip with a 10+1 capacity, offering a balance of firepower and concealability. Its simplicity and Glock's legendary durability make it stand out.
Pros include its compact size, reliability, and Glock's reputation. It's great for concealed carry. Cons might include the longer grip for some users and limited capacity compared to larger handguns.
The recoil on the Glock 43X is manageable, thanks to its 9mm chambering and design. It's snappy but not overly harsh. Practice and proper technique can help you control it effectively, making it a practical choice for many shooters.
glock 43x review Conclusion - Should I buy Glock 43X?
Absolutely. All things considered, I really enjoyed concealed carrying the Glock 43x. And shooting the pistol just feels right. This model comes with all the benefits of the standard Glock 43 + it offers a couple more convenient (the slide serrations) and long desired features (higher flush capacity).
Although it's difficult to say if the G43X outperforms the competition, the pistol offers a well-rounded package, ideal for anyone who's main interest is safe and comfortable everyday concealed carry. But even if you buy the pistol, you mustn't forget to get  Holsters For Glock 43X for it. Otherwise some of the pistol's potential might go to waste.
Do you fancy some more light reading? Then carry on with these articles