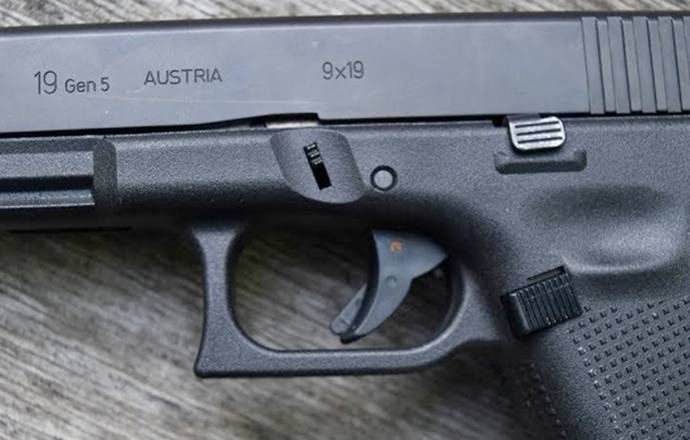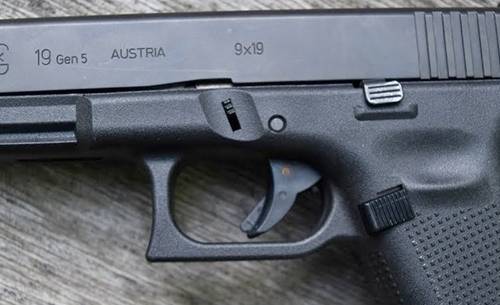 Source: 19fortyfive.com
The Glock pistols are very well-known and they often make up for the most favourite gun option among general shooting public. But no other Glock model is more popular than the one we're going to have a look at today - the Glock 19. The model originally designed for armed forces, police and security agencies, quickly became very popular among civilians. And not just for recreational and competition shooting, home- and self-defense, but also for its concealed carry potential.
The pistol is considered by many the best 9mm gun ever produced. But what lies behind such a bold statement and the extremely high popularity this firearm enjoys? Let's have a deeper look at it in our Glock 19 review.
Our first impressions
My first impressions of this gun model are more than positive. Due to its compact design and high magazine capacity, the Glock 19 is a great choice for concealed carry, because it is really easy to use and also hide. On top of that, if paired with a well-fitting Glock 19 holster, the pistol can be easily concealed even in an open carry holster. This pistol seems to be very accurate and reliable and can get even to the next level by adding aftermarket accessories to it. The only issue I can spot at first sight is the pistol's cost, as it starts at $500, which could be a bit costly for some. Other than that, no real complaint straight out of the box. So, without further ado, let's have a look at the main specs and features of this 9mm wonder.
Main Features and Specs
The Glock 19 or G19 as many call it, belongs to the group of compact pistols. It is a recoil operated, semi-automatic pistol with a striker single-action (SA) trigger. With its compact size and high capacity magazines it becomes a great option for both open & concealed carry.
Multi-generational handgun
Source: Guns.com
The Glock 19 was first produced in 1988, primarily for military and law enforcement. As Glock Ges.m.b.H is a manufacturer that cares about the quality of their products, they created multiple generations of the 19 model -  Gen 1, Gen 3, Gen 4 and Gen 5 - and brought more and more improvement with each new variation. There are differences between particular models, mainly when talking about their features. The most famous are probably the Gen 4 and 5, which became very popular firearms among civilians for recreational and competition shooting, home- and self-defense, both in concealed or open carry.
On top of all the generations, Glock also introduced slightly different version of the G19 model. One of such models is the Glock 19C (compact), which is even more suitable for everyday concealed carry. The other popular Glock 19 variation is the X model, which is crossover between the G19 and G17, another extremely popular glock pistol (continue reading for a side-by-side comparison of the models 17 and 19).
Hold on ... Don't forget to choose your new Glock 19 holster



Before we get down to a detailed inspection, hit that button below and take a look at these custom Glock 19 holsters as you'll definitely be needing one if you decide to add this amazing handgun to your arsenal.

Very compact and light

Source: HandgunHero.com
The Glock 19 is 7.36'' long, 4.99'' high and mere 1.26'' wide. This compact pistol comes with a 4.01'' long barrel and weighs only 23.65-oz. Considering Glock 19 dimensions, this pistol is an ideal choice for everyday concealed carry. However, it's only good for concealed carry if you get a solid Glock 19 CCW holster for it. The Glock 19 is known as the most balanced and comfortable sized Glock, that's why it quickly became one of the most popular handguns in the USA.
Breathtaking Capacity
When considering buying a new gun for concealed carry, you should always keep in mind the number of rounds it offers. Glock 19 comes with a magazine that can assume 15 rounds of ammo. This is absolutely enough for a CCW gun and that is also one of the reasons why to buy Glock 19.
The overall capacity of your Glock 19 can be even bigger by adding some of the extended magazines available at the market. By that you can easily increase the number of rounds to 17, 19, 24, 31 or even 33 rounds, depending on the type of the magazine extension you choose.
The Glock magazines have a stiff metal tube encased in the proven Glock high-tech polymer, which prevents deformation, even when dropped from great height or exposed to extreme environments. The innovative polymer frame of GLOCK pistols does not require grip shells. As a result, it has considerably more space for the magazine body and enables double-row staggered cartridge configuration. The magazines themselves are fairly affordable at around the $25 per piece price point.
Extended magazines for Glock 19 cost from approx $35 to $55 which is not that much when considering the final effect - more capacity, more rounds, more fun at the range (or more shots available in case they're needed). They feature retention plunger technology that allows the magazine extension to easily slide onto the bottom of the magazine. The magazine base pads are CNC machined from aerospace grade aluminum. This gives any operator the added weight needed for your base pad to drop free and fast. 
Caliber of glock 19
The Glock 19 relies on the use of the 9 mm Luger alias 9 mm Parabellum. This cartridge was first adopted by the German Navy in 1904 and then by the German Army in 1908. This cartridge has since become the most popular and widely-used handgun cartridge in the world. Performance wise, the 9 mm cartridge has somewhat more power than the .38 Special but falls well short of the .357 Magnum.
firing Mechanism
Although G19 is a striker-fired pistol, it features single-action (SA) trigger, meaning that the trigger does not cock the gun, but only releases the striker when pulled. Cocking of the striker is performed by the retracting slide.
The Glock 19, the same as the rest of the Glock pistols so far, have no manual safeties. The only operating element is the trigger, as all three internal pistol safeties are deactivated when the unique single-action trigger is pulled. And they are automatically activated when the trigger is released.
The trigger safety is the first safety in the firing sequence. It's incorporated into the trigger in the form of a lever and when it is engaged blocks the trigger from moving rearward. The trigger safety is designed to prevent the pistol from firing if it's dropped or if the trigger is subjected to any pressure that isn't a direct firing pull.
The second safety is the firing pin safety which mechanically blocks the firing pin from moving forward in the ready-to-fire condition. As the trigger is pulled rearward, the trigger bar pushes the firing pin safety up and frees the firing pin channel. If you decide not to fire and release the trigger, the firing pin safety automatically reengages.
The third and final safety involves the trigger bar, which rests on the safety ramp within the trigger mechanism housing. The trigger bar engages the rear portion of the firing pin and prevents the firing pin from moving forward. As the trigger is pulled rearward the trigger bar lowers down the safety ramp and allows the release of the firing pin. After firing, the trigger bar moves upward and re-engages the firing pin. As the trigger is released, all safeties automatically re-engage.
Glock 19 Shooting and range experience
The Glock 19 brings a nice shooting experience, which is quite unusual for pistols this small. Even though most shooters frequently have to put up with quite a lot of hand slapping recoil when using the compact gun such as Glock 19, with its lovely design and comfortable grips, you probably won't have this issue.
When talking about the shooting experience, the Glock 19 can be found as an eminently shootable pistol. The balance of this pistol is excellent and controlling the recoil during shooting strings is quite easy too. When shooting at the range, the Glock 19 is neither too big nor too small for precision manipulations and keeping rounds on target. So it really brings an ultimate shooting experience. And what more, it accomplishes the main factor when looking at a CCW gun, which is reliability.
Glock 19 Accuracy
Glock's reputation for never-fail functionality is well deserved, as a Glock 19 will continue to function under conditions no other pistol on earth can survive. This reliability has some consequences, though, as it derives in part from the loose tolerances baked into the pistol. This means that pinpoint accuracy is not among the Glock 19's core qualities. While in no way an inaccurate weapon, the Glock will have small variations in accuracy, especially at longer distances (25 – 100 yards). While this variation is largely insignificant, the Glock 19 is not a perfect nail driver.
If you're by any chance not 100% satisfied with the accuracy of your Glock, just scroll down for a couple of handy tips how to improve your pistol's accuracy and target acquisition. Also, don't forget to have a look at our list of best Glock 19 lights and lasers + list of the top Glock night sights.
Glock's Ergonomics
Any GLOCK pistol is designed with one primary purpose in mind - easy operation & great ergonomics. And that's exactly what the Glock 19 delivers.
The center of the pistol's barrel is known as the bore axis. Because GLOCK pistols have a lower bore axis, recoil and muzzle rise are less than in other brands of pistols, increasing the accuracy of the pistol. The natural grip design allows for instinctive pointing and faster acquisition of the sight picture, while the hammerless design minimizes the possibility of snagging clothes and other objects during concealed carry.
The extractor on the GLOCK pistol acts as a Loaded Chamber Indicator (LCI), visually and physically indicating whether there is a cartridge in the chamber of the pistol.  The Glock 19 is not the most ergonomically designed pistol, but with modification it has the potential to be quite nice. The lack of finger grooves will allow this version to better fit some folks' hands.
The Glock's trigger is average. The pull is listed at 5.5 pounds. The pull is somewhat mushy. If the trigger pull is too heavy, switch the trigger connector to take some of the extra weight off the pull, making it easier for you to pull the trigger without yanking the gun (resulting in a less accurate shot). However, only professional shooters or very dedicated hobbyists will have a bone to pick with the trigger. The trigger functions well and is perfectly functional for self-defense and hobby shooting.
Glock 19 specs
So, now that you know what the deal-breaking features of the best selling Glock are, let's have a look at the overview of the main specs of this 9mm wonder. Keep in mind that the specs below are those of the basic Glock 19 version. There might be slight differences with other G19 generations.
| | |
| --- | --- |
| Caliber | 9mm Luger |
| Capacity | 15+1 (flush) up to 33+1 (extended) |
| Barrel length | 4.01 inch |
| Overall Length | 7.36 inch |
| Width | 1.26 inch |
| Height | 4.99 inch |
| Weigth | 23.65 oz. (fully loaded) |
| MSRP | Starts at $500 |
The main competition of Glock 19
Now that you know pretty much everything there is about the G19 pistol, let's have a look at what the pistol's fiercest rivals are. As of now, the leading competition to our Glock are the following compact pistols - Glock 17, Beretta APX, H&K P2000, Sig Sauer P229 or Ruger Security 9. All of these are similar in size and operation and it seems nearly impossible to decide which one is the best. In these cases, the things like price, capacity, accuracy can be a breaking point within the decision.
The model this pistol is most frequently compared with, though, is without a doubt another behemoth from the Glock's workshop - the Glock 17. In case you'd like to know which of these is the better Glock pistol, read our latest side-by-side comparison, available here.
How to carry glock 19?




The Glock 19, even though it belongs to a category of compact pistols, is a little larger than many purpose-made concealed-carry pistols. This means that the pistol's size presents little or no obstacle to IWB concealment for many people, especially when positioned on a body angle (4, or 5 o'clock positions) and in the appendix position. For a comfortable carrying it is necessary to pair it with a well fitting IWB or appendix holsters. Our Glock 19 IWB holsters allow for very easy access, but also keep your G19 safe and secure. In case you prefer appendix carry, there is no need to worry, as all of these Glock 19 appendix holsters are very comfortable, providing an easy carry and quick access to your Glock 19.
Another great way how to carry your Glock is in a Glock 19 OWB holster. As it is a mid-sized weapon, you'll have no problem concealing it, especially if you select a holster custom made to fit your Glock's specs like a glove. In case you are driving a lot, or have a desk job, then I'd suggest conceal carrying your pistol in a Glock 19 cross-draw holster.
If you' re not yet decided on which carry style is the best option for you, or which holster to choose for your Glock 19, then you should definitely read our latest article on the best available holsters for the Glock 19, which will most certainly help you make the right decision. But it doesn't really matter much if you prefer one style or another, as long as your Glock 19 holster is a well-fitting one, made of the finest available material, it'll serve you well and let you get the most out of the Glock's potential.
Best glock 19 upgrades & aftermarket accessories
I've said before that the Glock is known mainly for its reliability and functionality. However, there's one more thing all Glock pistols come with - an endless range of aftermarket possibilities.
Glock 19 upgrades are practically an industry of their own. It's one of the most popular self-defense tools in the world and they've become a big part (and some of the fun) of owning a gun for some owners. It's like having a muscle car back in the day; you can modify them and upgrade them in so many ways it makes the head spin.
For some shooters, the Glock 19 is a reliable pistol with a lot of great features provided on its own. But some want to get even more from their G19 within a shooting experience. To get your Glock 19 to the next level can be easily done by adding extensions and upgrades available on the aftermarket. Here is our list of the best Glock 19 aftermarket accessories available to upgrade your gun:
CONCLUSION - IS GLOCK 19 THE best 9mm ever produced?
While it's quite difficult to judge whether the G19 is the BEST 9mm ever produced, it's easy to say that it's one of the best handguns ever to be introduced to the civilian market.
The Glock 19 delivers high reliability, great ergonomics, and it boasts as many aftermarket options as you can dream of. On top of that, its relatively compact size (one of the smallest mid-sized handguns), the pistol is also viable as a concealed carry option.
All in all, it's one of the most all around pistols that have ever been made and thanks to a number of Glock 19 generations and variations of the pistol, it hasn't fallen out of fashion even this year, when concealed carry seems to be of paramout importance.
When it comes to me, the Glock 19 certainly cuts it. Now I wonder if our review has convinced you to get your own Glock. If it has, great. If you already have one, even better. Just don't forget to make one of these well made Glock 19 holsters a part of your EDC too.
DON'T LEAVE YET - YOU MAY FIND THESE ARTICLES READWORTHY
THE BEST BERETTA APX HOLSTERS FOR OPEN AND CONCEALED CARRY